11 July 2012
UNCTAD signed a Memorandum of Understanding (MoU) with the Bulgarian Competition Authority - Commission on Protection of Competition (CPC). The MoU took effect on the day of the signing and is aimed at strengthening the framework of cooperation between the CPC and UNCTAD through consultations and regular capacity building activities extended to Balkan countries.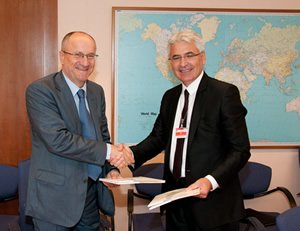 The Bulgarian Competition Authority - Commission on Protection of Competition (CPC) acts as the enforcement agency for the competition Act and related legislation as well as the EC competition rules. In such capacity, it provides networking opportunities and facilitates the exchange of best practices in international competition policy.
UNCTAD and CPC have a mutual interest in the development of an environment conducive to competitive markets.
The purpose of this Memorandum of Understanding (MOU) is to formalize the mutually beneficial relationship between UNCTAD and CPC, which is based on the shared objective to assist Balkan countries in adopting and enforcing competition rules.
The MoU foresees the following joint activities:
UNCTAD and CPC will contribute to capacity building through the provision of expertise on competition related issues and the sponsorship and sharing of publications on competition issues for dissemination among Balkan countries

UNCTAD and CPC will cooperate to strengthen competition networks. CPC will prioritize the provision of Study Tours for professionals from Balkan countries. UNCTAD will contribute to the CPC capacity building programs and the CPC conference and training activities for the Balkan countries.

UNCTAD and CPC will cooperate to promote each others' activities for Balkan countries. In particular relevant CPC activities will benefit from UNCTAD promotion and CPC will support UNCTAD national Competition programs, in particular the Training of Trainers Courses.

UNCTAD and CPC will exchange information on the latest developments in competition cases, and exchange publications, reports and publicly available information.