23 January 2023
They have developed principles to guide investment policies in accelerating progress towards the UN Sustainable Development Goals in 57 countries.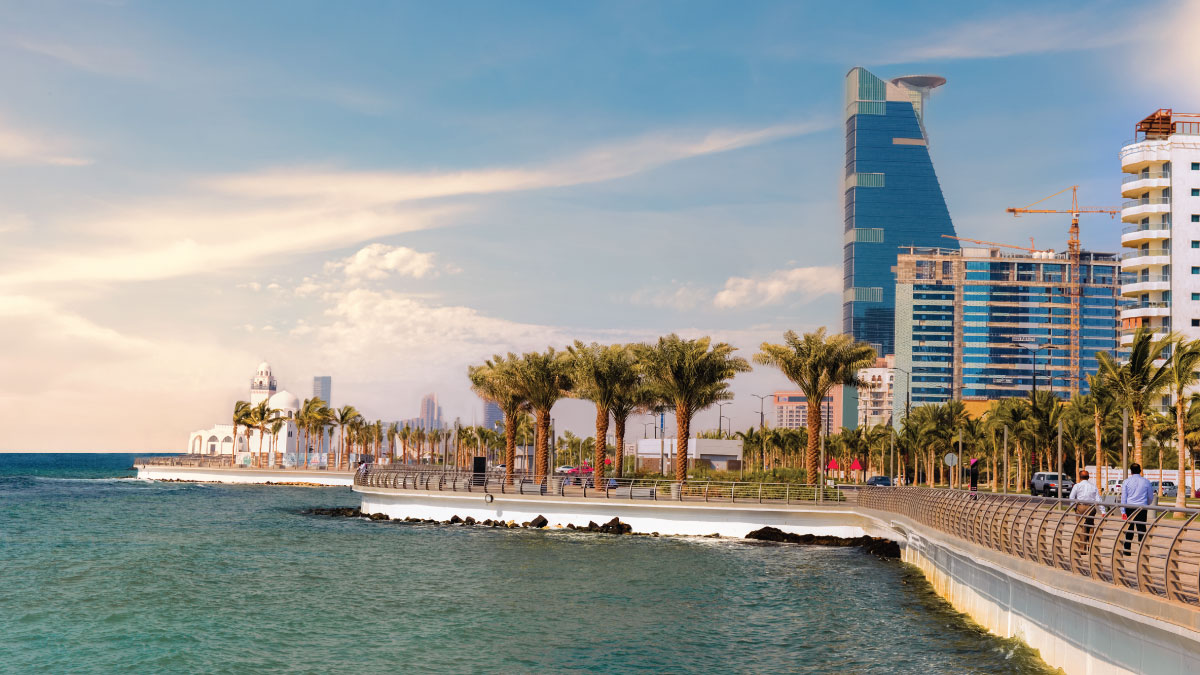 © Osama Ahmed Mansour/Shutterstock | A view of Jeddah, Saudi Arabia, where the Islamic Development Bank is headquartered.
UNCTAD has released a set of 11 guiding principles for investment policies alongside the Islamic Development Bank (IsDB) and the Islamic Corporation for the Insurance of Investment and Export Credit, both belonging to the IsDB Group.
IsDB is a multilateral development bank working to bolster comprehensive progress in 57 countries across Africa, Asia, Europe and South America, as well as Muslim communities worldwide.
The principles will help guide policymaking and leverage investment as a driving force for inclusive growth and sustainable development in IsDB member nations.
"UNCTAD has been a leader in adopting a soft approach to reshaping the global investment environment through its guiding principles and action menus," says James Zhan, UNCTAD's director for investment and enterprise development.
"They help build global consensus on a new generation of investment policies, while allowing members to pursue the developmental priorities that are specific to them."
IsDB's director of cooperation and capacity development, Riad Ragueb, said: "We are certain that these principles will provide the necessary guidance for the member countries to develop their investment policies in order to achieve the goals of sustainable development and comprehensive growth."
Timely principles
These principles come at a time when sustainable development-oriented reform has entered the mainstream of investment policymaking. While some IsDB member nations have undertaken investment policy reforms, others are yet to do so.
For countries to integrate investment policies into sustainable development strategies, a coherent policy framework that takes the different development status of individual IsDB member countries into account is required, the principles state.
Besides enhancing coherence in national and international investment policymaking, the principles also seek to foster an open, transparent and conducive global policy environment for investment.
They call for the safeguarding of countries' right to regulate and align investment promotion and facilitation policies with the Sustainable Development Goals (SDGs).
They emphasize that "sustainable development is an ongoing challenge, which underlines the importance of dynamic policymaking and the ability to react to evolving circumstances, contributing to an investment climate with balanced rights and obligations for investors and IsDB member countries."
Pragmatic approach
The principles can be translated into national laws, regulations and policy practices of individual countries.
Their non-binding nature means countries can choose the principles to apply, offering a "soft approach" to global investment policymaking.
Fruitful cooperation
The principles stem from ongoing cooperation between UNCTAD and IsDB on issues related to international investment agreements.
They draw on UNCTAD's investment policy framework for sustainable development and its reform package for the international investment regime.
The principles result from UNCTAD's technical assistance and capacity-building programmes for IsDB member countries. It has since 2005 trained more than 600 government officials on key issues related to international investment policymaking.
Between 2016 and 2022, UNCTAD also facilitated the development and adoption of guiding principles on investment policymaking, benefiting 131 countries and regional integration groupings.
These include: