27 September 2012
Under a project to be funded by the Commonwealth Secretariat, the Economic Cooperation and Integration of Developing Countries (ECIDC) unit of UNCTAD in accordance with its mandate on South-South cooperation, will be undertaking studies, workshops and field missions to identify and promote potential supply chains in sub-Saharan Africa.
A similar project with funding of US$ 400,000 from the Commonwealth Secretariat and Asian Development Bank was completed earlier this month for South Asia. Studies conducted identified potential supply chains in the region in two sectors, namely, the agro-processing industry and the leather industry. At the regional industry consultation organized by ECIDC in Chennai, India, the first-ever regional industry association -- the Leather Industry Association of South Asia (LIASA) -- was established to pursue regional supply chain and other collaboration.
For sub-Saharan Africa, the Commonwealth Secretariat-UNCTAD project will identify and promote potential supply chains in the textiles and clothing sector, agro-processing industry and leather industry. Constraints to forming supply chains in these sectors will be identified and regional industry associations across the existing regional arrangements promoted.
Deepening of regional trade agreements will be encouraged along with inter- and intra-regional investment agreements across the existing regional sub-groupings.
Consultations for the studies undertaken under the project will provide a common platform for the industry, policy-makers, academia and other stakeholders in the region.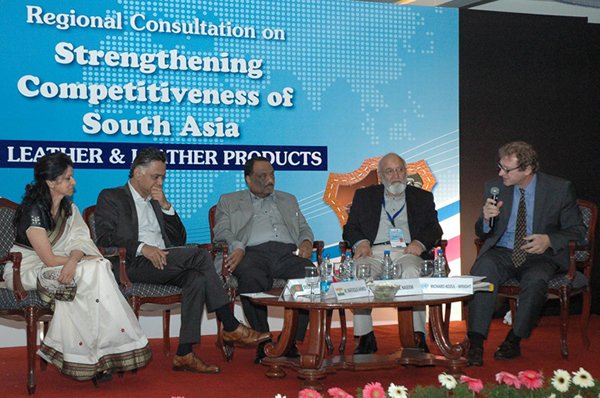 Participants at the regional consultation on strengthening competitiveness of South Asia in leather and leather products
Chennai, India (3-4 September 2012)