06 October 2021
ASYCUDA's single window system will increase competitiveness, make customs processing more efficient and boost trade.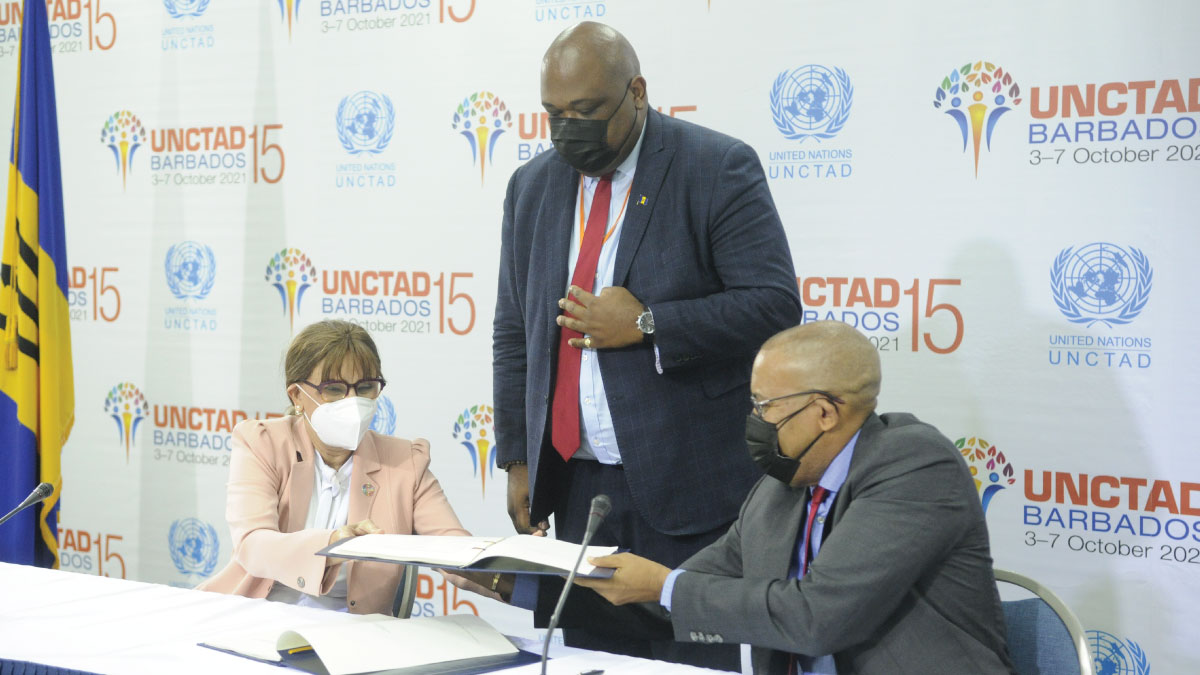 UNCTAD Secretary-General Rebeca Grynspan and Barbados minister of energy, small business and entrepreneurship, Kerrie Symmonds, exchange agreement documents as Chad Blackman, the country's ambassador to the UN in Geneva, looks on. © Barbados Government Information Service
UNCTAD and Barbados on 5 October signed an agreement worth $2.1 million to facilitate trade by the implementation of an electronic single window system with the assistance of the Automated System for Customs Data (ASYCUDA) programme.
The signing took place at a side event of UNCTAD's quadrennial conference, UNCTAD15, hosted by Barbados, the first small island developing state to do so.
The single window will make it easier for traders importing and exporting goods to comply with the requirements of Barbados customs and other government agencies using an electronic one-stop-shop.
It will also increase transparency by helping to ensure clearance status data is accurate, reliable and available online.
"UNCTAD is proud to support Barbados with increasing the competitiveness of its private sector and the country's overall competitiveness at the regional and international level, while increasing domestic revenues by using our flagship capacity-building 'ASYCUDA's electronic single window'," said UNCTAD Secretary-General Rebeca Grynspan.
Barbados's minister of energy, small business and entrepreneurship, Kerrie Symmonds, said: "We in Barbados feel that this is critical for our ease of doing business. This is critical for our competitiveness. This is critical for our business facilitation efforts."
He added: "Effectively what we're now doing is having one platform, which will be a seamless place. One stop for the businessperson, whether micro, medium or large. That one stop allows for all of those government departments to interface with each other - online and real time."
Serving nearly 100 countries
Around 100 countries and territories are using the flagship customs systems created by ASYCUDA, UNCTAD's largest technical cooperation programme.
They use automation and coordination tools to improve the efficiency with which governments collect revenues, clear items for release and generate statistical trade data to improve international trade flows.
For example, in Angola, customs revenue increased by 44% and 13% respectively in 2018 and 2019, after the country started using ASYCUDA systems in 2017.
In Jamaica, in 2020, the overall clearance time for import and export was reduced significantly from several days to 32 hours.
And in Rwanda, ASYCUDA has, since 2015, generated more than $9 million in savings from the costs of processing purchasing forms, paying clearing agents to manually fill them and following up with ministries.