26 November 2015
UNCTAD's 2015 Information Economy Report, subtitled "Unlocking the potential of E-Commerce in Developing Countries" was prominently featured at the Swiss e-Commerce Conference organized by NetComm Suisse - the Swiss E-Commerce Association - which took place in Baden, Switzerland, on 25 November 2015.
Building on the success of last year's event, the 2015 Swiss e-Commerce Conference gathered more than 600 participants and hosted 60 top speakers who shared their views on B2B and B2C e-commerce opportunities and the challenges to expand their activities within and outside Switzerland.
The Conference offered a great occasion to discuss the role of regulations in e-commerce, including cross-border e-commerce in connection with data protection and privacy, security, logistics, online payment, deliveries, custom duties and taxation issues.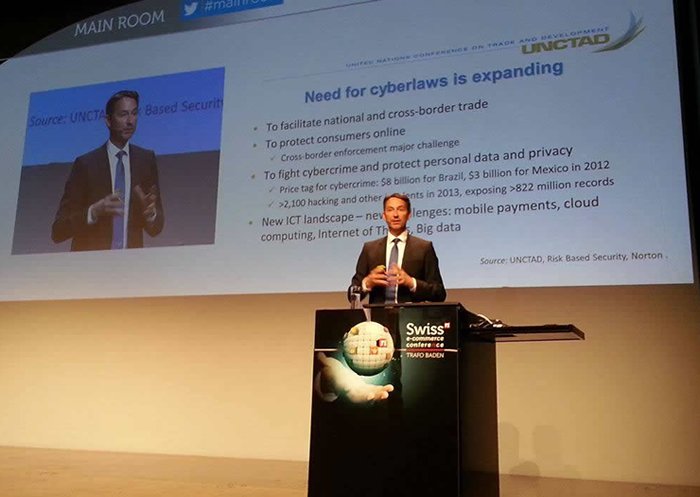 UNCTAD officials shared findings of their research, including global and regional trends, and the UNCTAD B2C (business-to-consumer) E-Commerce Index, which provides data on 130 countries with regard to their e-commerce readiness. In the 2014 edition, Switzerland was ranked at 14 in the UNCTAD index.
Special attention was also given to UNCTAD's Global Cyberlaw Tracker, which maps the legal landscape in the area of electronic transactions, data protection and privacy, cybercrime and consumer protection.
UNCTAD representatives also said that the scope for e-commerce is rapidly expanding in developing countries, creating not only opportunities for businesses and consumers in the countries themselves, but also for foreign investors.
In order to further enhance the e-commerce readiness in a country, UNCTAD research has shown that it is important to design and implemente-commerce strategies and policies in coordination with relevant stakeholders, including the Ministries of ICT, Trade, Finance and Telecommunications, relevant government regulatory and promotional agencies, postal services, national information technology or e-commerce associations, chambers of commerce, academia and consumer organizations.
Founded in June 2012, NetComm Suisse is the Swiss association of e-commerce operators and of digital communication. It supports the expansion of the sector and strengthens the consumers' confidence in online sales.
Having a national e-commerce association as a partner can help governments improve the e-commerce readiness in a country by identifying policy areas in need of attention, producing e-commerce data, building skills and raising awareness among relevant stakeholders.