08 June 2017
At the request of the African Union Commission, UNCTAD will participate in the 6th Continental Free Trade Area Negotiating Forum from 5-16 June in Niamey, Niger, to provide technical support to Members in their efforts to finalize approaches for bringing down barriers to intra-African trade.
The Continental Free Trade Area (CFTA) is an African Union (AU) flagship project prioritizing the dismantling of barriers to intra-African trade so as to create new opportunities for economic empowerment and development in Africa. Some of the topics up for consideration include goods (agriculture and industry) and services.
A team consisting of the Head of the Regional Office for Africa as well as representatives from UNCTAD's Statistics Division and the Trade Negotiations and Commercial Diplomacy Branch will be in Niamey for the next two weeks, providing technical input to support the process in areas such as mapping of intra African trade flows in both goods and services, analyses of regulatory frameworks that support pro-sustainable development engagements in trade in services and a dispute settlement model adaptable to the African context.
Secretary General Dr. Mukhisa Kituyi has been steadfast in his support for deeper African trade integration as an opportunity for Africa to meet its structural transformation objectives and to multiply the gains of trade-led growth.
The support to this process is his response to requests from African Ministers of Trade for UNCTAD to provide capacity building for the CFTA negotiations.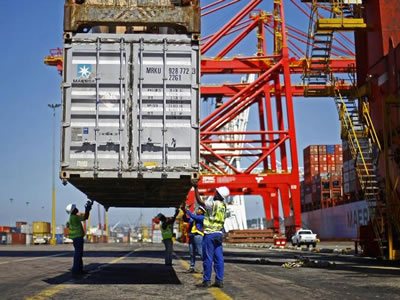 Photo credit: Bloomberg
Related Links:
The meeting which commences with the Negotiating Forum will later have a senior officials segment and culminate in a sitting of the African Ministers of Trade.