03 August 2015
​As reconstruction of the port at Port-au-Prince, the capital of Haiti, presses on after a devastating earthquake in 2010, UNCTAD's TrainForTrade programme is offering training to Haitian instructors so that they can in turn train up port officials.
Experts from UNCTAD/TrainForTrade traveled to Haiti from 8 to 15 July to meet with port officials from Haiti's national port authority, the Autorité portuaire nationale (APN), and train the first batch of Haitian instructors in TrainForTrade methodology and pedagogic skills. The coaching workshop provided participants with the necessary skills and tools to launch the first training cycle of a Port Training Programme in Port-au-Prince later in 2015.
The implementation of UNCTAD/TrainForTrade's course in Modern Port Management in Haiti represents an important step in the reconstruction and modernization of Haiti's ports, one of the main pillars of the Haitian economy, after a magnitude 7.0 MMS earthquake hit the island in January 2010 destroying buildings and infrastructure, and killing several thousand people. The port at Port-au-Prince was severely damaged and is currently being rebuilt.
At an opening ceremony in Port-au-Prince on 8 July, Director General of APN Alix Célestin said he was delighted to receive the UNCTAD experts in Haiti and underlined the importance of professional training for the port. Following his remarks, the course in Modern Port Management was presented to an audience composed of high-level representatives from Haiti's port community.
The following day was marked by information sessions for mid- and senior-level managers from APN at a training center at the port. The UNCTAD team also had the opportunity to visit the port and the construction site. The last three days of the needs-analysis mission were dedicated to coaching 13 senior port managers, four of whom were women.
This session focused on best practices in adult learning and provided hands-on training on how to deliver the Port Training Programme. Among the future instructors were two representatives from the Port of Cotonou, Benin who shared their perspectives. This marks the beginning of more "South-South" exchanges to come within the framework of the programme.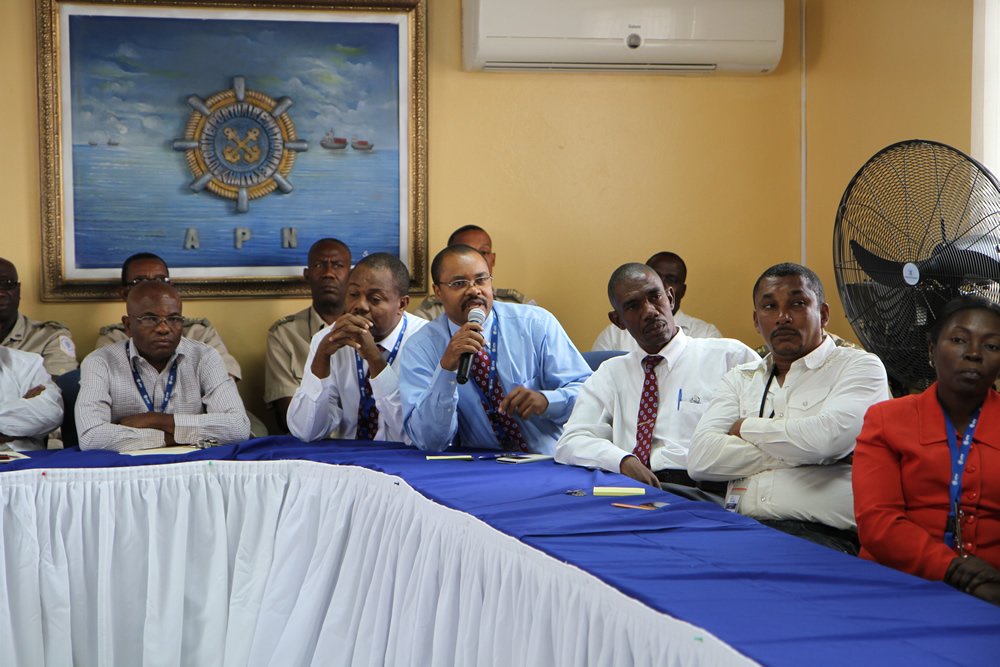 After the participants of the first training cycle have completed the eight-module course (240 hours of training), they will write a case study that is later presented to an international jury composed of representatives of the Port Training Programme's member ports.
With the accession of Haiti this year, the French-speaking network of the Programme counts nine member countries - Benin, Côte d'Ivoire, Cameroun, Djibouti, Gabon, Guinea, Haiti, Senegal and Togo.With Haitian instructors trained to deliver the course in Modern Port Management locally, APN will finalize the list of participants for their first training cycle and prepare for the delivery of Module 1 in October.