01 April 2016
A maritime country profile provides a basic snapshot of a country's situation regarding maritime transport and international trade, facilitating convenient cross-country comparisons. The Maritime Country Profiles will be updated regularly as new data becomes available.
​Throughout most of history, "maritime nations" had their own national fleets, which were built, owned, operated, and manned by nationals of the same country whose flag the ship flew. Today, different countries mostly participate in different maritime businesses. Policy makers have an interest to identify those maritime sectors where their countries participate at present, or might participate in future. To assist policy makers in depicting their country's market shares and trends in its maritime sectors, UNCTAD in March 2016 launched a novel set of Maritime Country Profiles.
Each Maritime Country Profile consists of six blocks:
Basic Data: The UNCTAD Maritime Country Profile provides core data on each country's economy, trade and maritime sectors.
Market shares: A key component of the UNCTAD Maritime Country Profile is each country's share in selected maritime sectors (ship registration, owning, building, demolition and container port traffic) as well as its population, gross domestic product, coastline and merchandize trade. 
Merchandize trade: Each profile gives a snapshot of what commodities are traded (all modes of transport), what is the trade balance, and who are the main trading partners.
Trade in transport services: Another component of each country profile is a table on basic trade in services data, including trade in transport services, and the trade balance in these services. 
The nationally flagged fleet: The country profile shows trends in the nationally flagged fleet, as well as the composition as regards types of ships. 
Liner shipping connectivity: The Maritime Country Profiles also illustrate each country's position within the global liner shipping network. It includes a time line of the national Liner Shipping Connectivity Index, as well as a list of the countries with the highest bilateral connectivity.
Exemple of the nationally flagged fleet for Marshall Islands.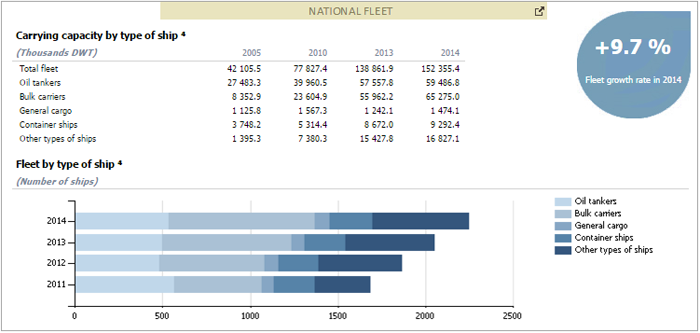 The Marshall Islands are one of the fastest growing open registries. A large share of its fleet are oil tankers and dry bulk carriers.
The Maritime Country Profiles will be updated regularly as new data becomes available.