20 April 2016
​UNCTAD presented its new report during events held in Geneva and New York, which maps out complex interlinkages between market access conditions and the enabling environment surrounding the Sustainable Development Goals.
In the effort to achieve the Sustainable Development Goals (SDGs), international trade will play a role as "an engine for inclusive economic growth and poverty reduction".
What actions can governments take to realise the potential of trade to contribute to the promotion of sustainable development? This is the question addressed in the new UNCTAD report, Trading into Sustainable Development: Trade, Market Access and Sustainable Development.
Trade policymaking, as an integral element of a country's development strategies, will require a new, more holistic approach that looks across three dimensions of sustainable development: economic, social and environmental.
This report provides a mapping of the new landscape facing trade policymakers, and helps them navigate in their design, implementation and assessment of trade policy. It also examines the complex interactions between market access conditions - customs tariffs, non-tariff measures (NTMs) and physical connectivity to markets - and the determinants of sustainable development.
The report was presented to delegates, Civil Society and other experts at an event in Geneva on 15 April 2016.
The session was opened by Joakim Reiter, Deputy Secretary-General of UNCTAD, who touched upon the organization's focus of turning ideas into actions. "The report maps out concrete actions required in today's economic landscape. In this way, it turns general insights into specific policy advice", he said.
Panellist, Ambassador Jonathan Fried of Canada, stressed that achieving the SDGs would require a comprehensive approach both nationally and internationally, by building policy coherence among finance, investment, governance and trade.
Following, Marion Jansen, Chief Economist of the International Trade Centre, said that "Improving the economic viability of small and medium enterprises in low-income countries is the key to making trade contribute to inclusive growth".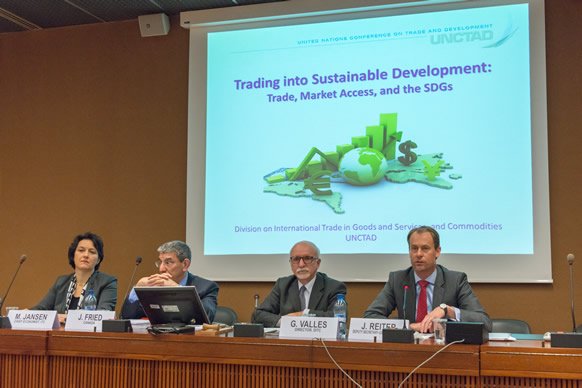 Briefing of the report Trading into Sustainable Development, 15 April 2016, Geneva
The report was also presented in New York on 18 April during a side events at the ECOSOC FfD Forum entitled: Realising trade's potential to contribute to sustainable development.
The event was chaired by Mr. Tarik Iziraren of the Permanent Mission of the Kingdom of Morocco to the United Nations and opening remarks were made by Dr. Mukhisa Kituyi, Secretary General of UNCTAD.
In his address, Dr. Kituyi stressed that, in the implementation framework of the SDGs, "trade is much more than quantitative flows of goods and services exchanged across borders. Trade, as a means of implementation for the SDGs, should be an economic and social enabler that lifts up the lives of marginalised groups towards sustained, inclusive and sustainable growth."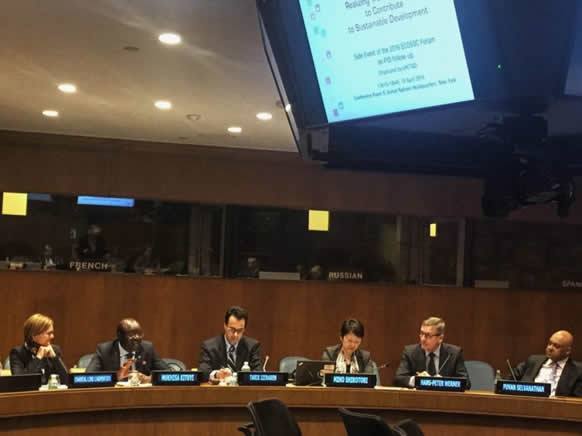 UNCTAD side event at the FfD Forum:
Realising trade's potential to contribute to sustainable development, 18 April 2016, New York