15 September 2014
UNCTAD presented its work on creative economy and trade perspectives of creative goods and services at the 4th Global Economic Summit, held in Mumbai from 11-13 September.
Eminent business leaders, bankers, academicians and technocrats assembled at the 4th Global Economic Summit in Mumbai from 11-13 September, to share insights and trends in Asia and is role in powering global markets.
UNCTAD participated in the session on: "Relevance of technology, innovation and knowledge based Industry", in relation to creative industries, and attended the XV Assembly meeting of the World Trade Point Federation, which was held within the framework of the Global Economic Summit.
Asia led both exports and imports of creative-industry products during the period 2002-2012. Asian countries remained in the leading position among developing countries in 2012, top 5 exporters included China, United States, Hong Kong (China), Germany and India, totaling among the top five, exports of creative goods worth of $277 billion for 2012.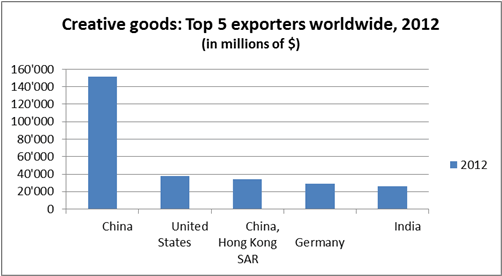 Source: UNCTAD Database on Creative Economy
Main creative goods exports include interior design products, fashion, jewelry and new media products, among the fastest growing creative sectors in recent years.
The figures showed Asia Pacific, is one of the most dynamic markets in creative industries, which provides a great potential for trade, investments and technology across sectors. Trade promotion networks such as WTPF play a key role in giving visibility to the creative sectors locally through Trade Point offices and in establishing connections with other international markets for economic cooperation.
The Summit gathered nearly 500 leaders from Asia and beyond. Over 3 days, the summit offered various networking opportunities which included plenaries, panel discussions, exhibition, B2B meetings, Industry visits and cultural events.