04 April 2014
Building on the international trade agreement reached in Bali should link into efforts to establish global development goals for after 2015, UNCTAD Secretary-General Mukhisa Kituyi said during the Second Geneva Dialogue on the Post-2015 Sustainable Development Agenda.
"We have to try to find synergies between the two processes", involving negotiations in Geneva and New York, "to maximize their impact on economic development", Dr Kituyi said.
"That trade stands to contribute to sustainable development is not open to debate", he added.   The question is how to ensure coherence between positions countries are taking in the discussions to adopt a set of Sustainable Development Goals (SDGs) and their objectives in the post-Bali work programme.   Such coherence is needed for trade to be part of a wider process that delivers lasting and inclusive economic development, according to Dr Kituyi.
Addressing the Dialogue, Roberto Azevêdo, Director-General of the World Trade Organization, called for trade to be "an integral factor" in the post-2015 development agenda.   "The role of trade in the post-2015 agenda process should not be reduced simply to trade liberalization. Rather, trade should be recognized more broadly as a development policy instrument," Mr Azevêdo said.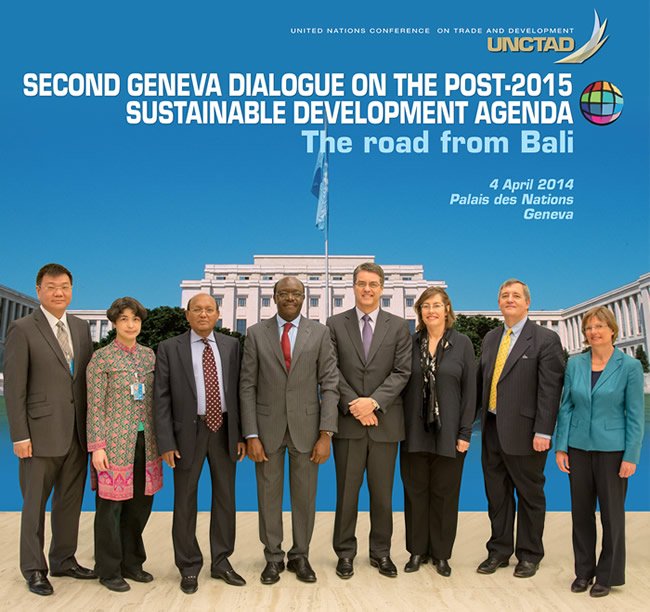 The theme of the Second Geneva Dialogue, convened by Dr Kituyi, was "The Post-2015 Sustainable Development Agenda: The Road from Bali". It was the second in a series of forums initiated by the UNCTAD Secretary-General to bring together member States, international organizations, the private sector and civil society for open and informal discussions on the development goals due to be adopted next year.
Both Dr Kituyi and Mr. Azevêdo said trade should be viewed as "an enabler" of economic development.
Tofail Ahmed, Minister of Commerce of Bangladesh, said trade plays a crucial role in his country's economy, citing in particular the garment sector. Mr Ahmed, however, expressed disappointment that despite years of talks, the WTO negotiations had yet to bring duty-free, quota-free market access for Least Developed Countries.
At the Ninth Ministerial Conference in Bali, Indonesia, in December 2013, WTO countries reached an accord on Trade Facilitation and agreed to set a clearly defined work programme by the end of 2014 on the remaining issues in the Doha Development Agenda international trade talks, which until Bali had failed to secure an agreement since their launch in 2001. In New York, United Nations countries are currently preparing for negotiations to adopt SDGs that will follow on from the Millennium Development Goals, which have a deadline of 2015. UNCTAD, along with the World Bank, was recently nominated to act as facilitator in a portion of the preparatory work taking place at the United Nations.
Also speaking at the Dialogue were:
Sarah Cook, Director, UN Research Institute for Social Development
Kwok Fook Seng, Permanent Representative of Singapore to the WTO
Sanya Reid Smith, Senior Researcher and Legal Advisor, Third World Network
Alison Tate, Director, External Relations, International Trade Union Confederation
Craig Vangrasstek, Lecturer in Public Policy, Harvard Kennedy School of Government
Their substantive interventions demonstrated each one's unique perspective on how to reflect trade-development linkage on the post-2015 sustainable development agenda and the post-Bali work program, e.g. through gender equality, inclusiveness to workers, or enhancing inter-ministerial coordination.