01 June 2012
​The challenges of lifting people out of poverty through inclusive development, putting finance back in the bottle and making the leap to a low-carbon future are all very closely interconnected, UNCTAD Secretary-General Supachai Panitchpakdi told the inaugural Asia-Global Dialogue 2012 being held in Hong Kong, China, from 31 May to 2 June.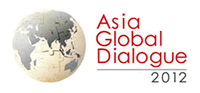 Speaking as an invited guest at a panel discussion entitled "
Sustainable growth in Asia: Making markets work for the millions
", Dr. Supachai noted that even in countries at a high level of development, unregulated markets do not necessarily generate socially beneficial outcomes, as recently demonstrated by the global financial crisis. Similarly, in addressing climate change, markets alone are unable, in the face of environmental externalities, to provide the desired coordination framework to make the shift towards a low-carbon future, he said.
The panel had before it the proposition that markets need not be unjust - and that the outcomes are very much under our control. With the right policy framework and action from major stakeholders, markets can work for development.
On the panel with Dr. Supachai were Lord Nicholas Stern, Professor of Economics and Government, London School of Economics; and Ms. Cherie Nursalim, Executive Director of the Giti Group.
Recalling that he had served with Lord Nicholas Stern on the United Nations High-Level Advisory Group on Energy and Climate Change, Dr. Supachai said the mobilization of resources and promoting access to technology as stressed by the Advisory Group were important, but it was necessary to be thinking in bolder terms. What is needed, he said, is a "green new deal" that includes alternative investment strategies. This will require moving beyond the promise of additional resources for developing countries to a full-blown strategy for generating the level of investment needed if developing countries are to meet their side of any climate bargain without undermining other development goals. 
 
The theme of the two-and-a-half day conference is "Towards a new global economy: Redefining Asia's role". According to the organizers - the Fung Global Institute - the intention is for senior Asian business and thought leaders to frame the key challenges, identify issues of common concern, start prioritizing what needs to be done and recognize where overlapping interests and values can drive solutions. According to a pre-conference brochure, the stated goal is to map the positive role Asian businesses can play beyond the policy gridlock and lack of political consensus that currently inhibit global progress on so many fronts, from institutional reform to job creation. 
_________________________________________________________________________________