04 October 2021
Decades of hard-won development progress are slipping away. A bold, sustainable and inclusive global recovery is urgently needed.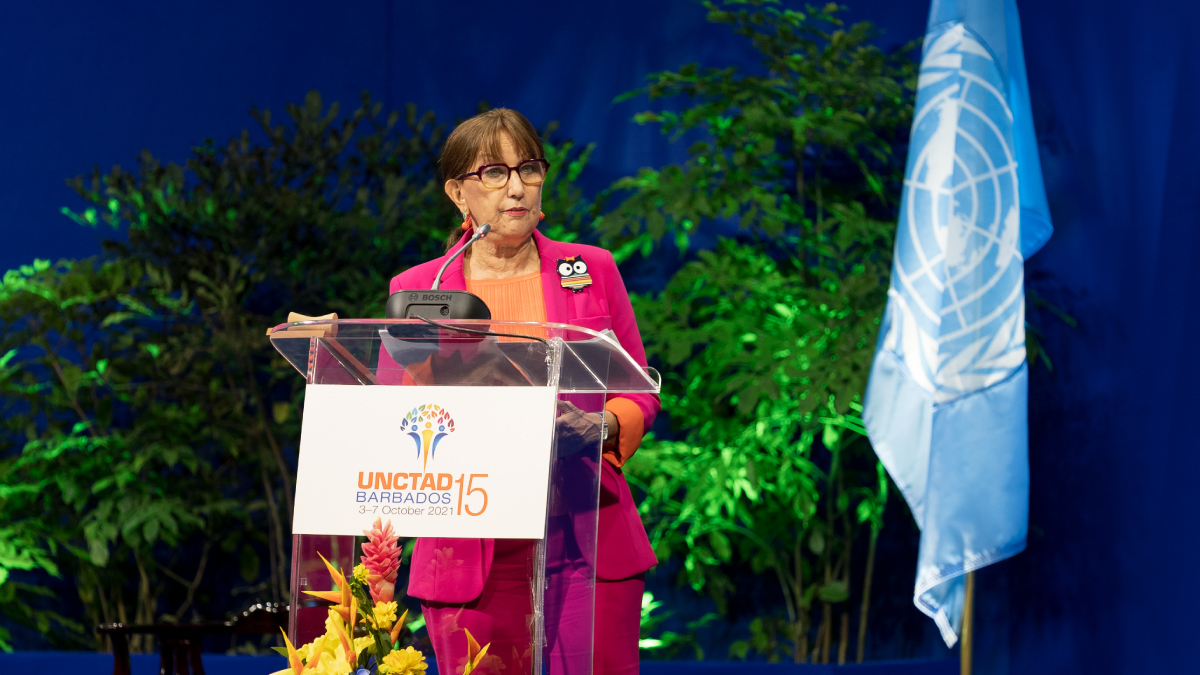 UNCTAD Secretary-General Rebeca Grynspan at the organization's 15th quadriennial conference in Bridgetown, Barbados. © Barbados Government Information Service
UNCTAD's quadrennial conference, UNCTAD15, opened on 4 October in Bridgetown, Barbados, with calls for vaccine equity and greater solidarity to tackle trade protectionism, debt distress, the climate crisis and other pressing global challenges.
UN Secretary-General António Guterres described the conference as the "Olympics of trade, development, investment, policy and technology discussions" and reiterated his call to world leaders to tackle "the cascade of crises" facing humanity.
He said the COVID-19 pandemic had wreaked havoc across the global economy, disrupting the three powerful economic engines of trade, manufacturing and transportation.
Mr. Guterres decried the uneven economic recovery unfolding across the world. "In all, more than eight out of every ten dollars in recovery investment is being spent in developed countries — not in the countries in greatest need," he said.
He warned that the uneven recovery was leaving much of humanity behind. "And until we get serious about vaccine equity, recovery will be stuck at the starting gate," he said.
Four glaring challenges
Secretary-General Guterres pointed out four glaring challenges, which if not addressed would make any notion of prosperity for all a distant dream.
"Debt distress. Systems starved for investment. Unfair trade. And a climate emergency that leaves small island developing states like Barbados perilously vulnerable," he said.
To tackle the debt crisis, he called for an urgent four-point debt crisis action plan. "We know national budgets are being stretched thin by COVID-19, so we must push for an immediate expansion of liquidity for the countries in greatest need," he said.
Among other measures, Mr. Guterres renewed his call for a comprehensive strategy around reforming the international debt architecture — including debt restructuring or reduction, especially for middle-income countries — to help them avoid deadly cycles of debt waves.
For a sustainable and equitable recovery for all, bold investments in education, universal social protection, health care and decent work are needed, Mr. Guterres said.
To re-ignite the engines of trade and investment and ensure they benefit the poorest countries, he called for open and fair trade rules, so all countries can compete on a level playing field no matter their position on the development ladder.
Mr. Guterres underscored the need to build a global green economy, saying small island developing states (SIDS) like Barbados are looking to the future with worry in the face of the climate crisis.
"They hear the words, but do not see the actions behind them," he said. "We often act as if we have another planet waiting for us."
He urged countries to make bold commitments at the upcoming UN climate summit (COP26) and donors and multilateral development banks to allocate at least 50% of their climate support towards adaptation and resilience.
Critical point in history of multilateralism
UNCTAD Secretary-General Rebeca Grynspan said the world stands at a critical point in the history of multilateralism amid the many challenges facing it.
She warned that many developing regions are facing the prospect of another "lost decade", and the reversal of their hard-won progress in the combat against poverty, inequality, food insecurity and gender inequality due to the pandemic.
Ms. Grynspan also raised an alarm over the deeply divergent recovery, with advanced countries growing and vaccinating at rates many times greater than those in the developing world.
"The inequalities we are witnessing in the access to vaccines and financial resources are today at the very heart of this divergence," she said. "Lives and livelihoods that could be saved, are not being saved in wide regions of our world – and that is, indeed, an outrage!"
She said advanced countries are already discussing third doses, while least developed countries (LDCs) have only vaccinated 2% of their population.
Disparities in access to financial resources
Access to financial resources tells a similar story of inequality, Ms. Grynspan said.
"Advanced countries have just produced the largest and most heterodox expansion ever seen in fiscal and monetary policies," she said.
Developing countries, on the other hand, dealing with large and differentiated debt burdens, as well as very limited fiscal margins, had spent only a fraction of what is needed to respond adequately to the multiple demands of this health, socioeconomic and climate crisis.
Ms. Grynspan welcomed the recent issuance of $650 billion in special drawing rights (SDRs) by the International Monetary Fund, the debt service suspension initiative, as well as the support from key countries to intellectual property rights waivers.
However, she pointed that the $650 billion was a tiny fraction of the almost $10 trillion that G7 countries (which got 40% of the SDR allocation) had spent on their own recoveries, while LDCs, with 100 million more people living in them, received only 2.3% of the total.
When will we pay attention?
Ms. Grynspan referred to a speech by Prime Minister Mia Amor Mottley of Barbados at this year's UN General Assembly, in which she wondered how much more sea levels must rise in small island developing states before they receive more climate financing and before we finally understand that unequal and unsustainable development is not development at all.
When will the world realize "that the pre-pandemic 'old normal' was only a mirage of progress, the enjoyment of the present at the expense of the future," she asked.
"Our countries, our societies, demand from us concrete measures, for a more prosperous and less fragile world; to achieve that, we need to work on a more inclusive multilateral system," Ms. Grynspan said.
Voice needed more than ever
Prime Minister Mottley underlined UNCTAD's critical role in championing the interests of the most vulnerable countries as they chart a new path to recovery from COVID-19.
"This organization [UNCTAD] was formed to give voice and protection to developing nations. If ever there was a time for that voice to be heard on issues of trade and development, it is now," she said.
She criticized the international community for not doing much in dealing with the climate crisis, which poses an existential threat to island nations, and debt, which undermines the ability of SIDS to sustain their economies.
"It's immoral and unjust in the extreme for someone to cause our societies to face an existential crisis and expect us to pay on our own," Ms. Mottley said.
She said international support to SIDS such as Barbados should consider their inherent vulnerability and avoid using irrelevant criteria in the face of their current vulnerabilities and challenges.
Prime Minister Mottley expressed hope that the "Bridgetown Covenant" from UNCTAD15 would provide a framework for moving from actions to concrete results in tackling these challenges.
"We do not wish our names to be associated with failure," Prime Minister Mottley said. "To that extent, our government, our Caribbean community will work assiduously to ensure that the policy initiatives and legislative frameworks that we need at the national level are put in place."
Need for a functional multilateral system
Kenya's President Uhuru Kenyatta urged the global community to come together to work towards a functional multilateral system.
"No single government or multilateral agency can address global threats alone," he said. "We must work together in solidarity if we are to succeed."
President Kenyatta said the implementation of the UNCTAD15 agenda would take place in the context of major global challenges, but the organization's member states already had the frameworks for tackling them.
The conference taking place under the theme "From inequality and vulnerability to prosperity for all" runs until 7 October. It's the UN's first major conference on trade and development during the COVID-19 pandemic.
Watch the opening ceremony of UNCTAD15