08 September 2017
The Viet Nam Biodiversity Conservation Agency, focal point for the implementation of the Convention on Biological Diversity (CBD) and the Nagoya Protocol on Access and Benefit Sharing (ABS) approved a decree on the Management of Access to Genetic Resources and Benefit Sharing. The decree supports and enhances the development and implementation of the 2008 Vietnamese Biodiversity Law of 2008.
UNCTAD has been instrumental in Viet Nam's Access and Benefit Sharing (ABS) reform and will continue to support BioTrade national programmes as guided by the revised ABS Regulatory framework, share the best administrative practice and provide technical assistance.
UNCTAD interviewed Mr. Pham Anh Cuòng, Director, Biodiversity Conservation Agency, Viet Nam Environment Administration, Ministry of Natural Resources and Environment.
Q:  How does the new Decree on management of access and benefit sharing (ABS) support the implementation of the Nagoya Protocol (NP) of 2010 in Viet Nam?
A:  Viet Nam joined the Nagoya Protocol and became a party in April, 2014. One of the priority tasks of Viet Nam was to strengthen the legal framework on ABS to support the implementation of the Protocol in the country.
The new Decree on management of access to and benefit sharing from utilization of Genetic Resources (GRs) has institutionalized provisions and obligations of the Nagoya Protocol into Viet Nam context as a member nation. It also details regulations on ABS in the Biodiversity Law (2008) to keep up with the currently ongoing demands for GRs usage activities all over the world.
Q:  How does the Decree develop and improve the status given by the Viet Nam Law of 2008? Which are the main novel features? What have been the main challenges?
A:  Designed to provide more details for the implementation of some articles in the Law on Biodiversity 2008 (Chapter V, from Article 55 - 62), the Decree included the following main issues: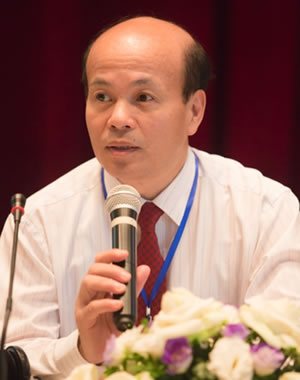 Mr. Pham Anh Cuòng
Related Information:
ABS activities principles (Article 4)
Designation of the Ministry of Environmental and Natural Resources (MONRE) as National Focal Point to the Nagoya Protocol (Article 5)
Identification of two national competent authorities including MONRE and Ministry of Agriculture and Rural Development (MARD) (Article 6), in which, MARD grants, renews or withdraws licenses to access genetic resources of agricultural crop varieties, livestock, aquatic species, and forest seedlings. MONRE is also responsible for the other genetic resources, including wild specimens.
Identification of 3 groups of entities which must obtain the License to access to GRs (Article 7.1), including (1) Vietnamese organizations and individuals access GR for commercial purposes or for the development of commercial products; (2) Foreign individuals and organizations access genetic resources for any purpose; and (3) Domestic individuals and organizations wishing to take genetic resources out of Vietnamese territory, unless Vietnamese students, doctoral students, or science and technology organizations who wish to transfer genetic resources out of the Vietnamese territory for study purposes or research for non-commercial purposes.
Procedures to obtain the License (Article 8-14)
Provisions on the contract (MAT) and License (PIC) (Article 15-18) and the Contract template (Form 3)
Provisions on benefit-sharing (Article 21-23)
The main challenge during development of these regulations was how to make them implementable while simultaneously setting up a system that works for both regulators and users, and bring back benefits for providers. Secondly, traditional knowledge associated with GRs remains an issue not yet to be solved, further guidance needs be developed.
Viet Nam also possesses various rare and precious generic resources which are potential for commercial development, such as Ngoc Linh ginseng, Gymnema sylvestre, and Gynostemma pentaphyllum. A lot of national pharmaceutical companies are doing research and development (R&D) on these plants with diverse purposes of practical applications such as supplementary consumption as tea bag, drinks, pharmaceutical products, nutritional powders, personal care products, etc.
Therefore, the Decree provides clear rules on access to genetic resources and regulations for the utilization of biodiversity resources whether they are used for commercial or non-commercial purposes without creating any kind of trade barriers as long as resources are treated as commodities and exported as such.
Companies developing commercial products based on biological resources and comply with ABS requirements shall be granted an internationally recognized certificate of compliance which will add more value to their products.
Q:  What would be the main benefits of the new Decree for BioTrade companies, whether nationally, regionally or internationally?
A:  BioTrade companies generally have to comply with Biotrade principles, which also include the requirement to act in accordance with fair and equitable sharing of the benefits along the value chain. Therefore, BioTrade companies are reviewed in priority and granted the international certificate of compliance.
Q:  How did UNCTAD, the Swiss State Secretariat for Economic Affairs (SECO) and BIG Viet Nam(Viet Nam association of BioTrade producers) support Viet Nam in the regulatory and policy review process?
A:  UNCTAD has provided Biodiversity Conservation Agency with international experience, support for capacity building activities, legal advice and studies on the relationship between ABS and BioTrade during the review process and development of the national regulation on ABS in order to promote compliance and facilitate trade flows.
Q:  What are the next steps? What would be the needs of Viet Nam to make this new regulation a success? What role for UNCTAD, SECO and BIG Viet Nam into the future?
A:  The next phase will be the development of circulars providing technical guidance for the implementation of the Decree, followed by seminars and training sessions for stakeholders. Currently, Viet Nam is reviewing the Law on Biodiversity 2008; accordingly some inappropriate contents of ABS as stipulated in the Law shall be adjusted in the near future.
In my role as the Director of Biodiversity Conservation Agency, I would like to strengthen the collaboration with UNCTAD and other SECO-funded projects as well as BIG Viet Nam to discuss and identify the most appropriate way to promote the operation and development of BioTrade companies in Viet Nam. It will also be important to have joint activities to raise awareness and expand knowledge on the new Decree and its application among BioTrade companies for the purpose of building capacity of relevant stakeholders.
Viet Nam continues to encourage and facilitates all R&D activities and product development based on its biodiversity.