27 November 2013
Three UNCTAD meetings on development in Angola called for efforts to upgrade agriculture and to educate and train women to ensure that economic growth leads to broader progress.​
An "UNCTAD week in Angola" concluded that policies for job creation and women's empowerment are crucial for the country's sustained development. UNCTAD experts also said such steps would smooth the process of Angola's graduation from its status as a least developed country (LDC).
They recommended the use of income from natural resource extraction to finance improvements to agriculture and other sectors, which have the potential to create decent jobs.
Modernized agriculture in particular can provide a way out of poverty and under-employment, especially for women and for youth, experts said during the three events.
The events were organized by UNCTAD's Division on International Trade and Commodities and by its Division on Africa, LDCs, and Special Programmes. The meetings were held in Angolan capital of Luanda on 21 and 22 November. Among those attending were Rosa Pedro Pacavira de Matos, Angola's Minister of Trade; Maria Filomena Lobão Telo Delgado, Minister of Family and Women Promotion; and the Angolan Secretaries of State for Trade and for Family and Women Protection, along with senior staff from these and other Ministries.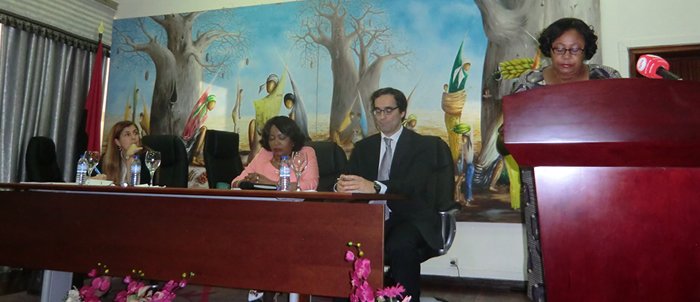 Participants at the event
The discussions were based on three UNCTAD reports: the Least Developed Countries Report 2013, the Economic Development in Africa Report 2013, and a study entitled, Who is benefitting from trade liberalization in Angola: A gender perspective.
Angola's natural resources endowments - particularly oil but also natural gas and diamonds - have made it one of the fastest growing economies in the world. Nevertheless, poverty is still widespread. The debate pointed out that the farming sector - which absorbs around 80 per cent of the Angolan workforce, is going through a process of "feminization" and impoverishment due to poor agricultural practices and the departure of men to urban areas in search of better living conditions. Cities, however, are often unable to provide decent jobs for the ever-growing urban population, and young people in particular risk finding occupations only in the informal sector.
Participants from several Ministries noted that Angola used to be a large producer and exporter of food products. They agreed with UNCTAD experts that the country can regain that status if appropriate investments are made in capacities, inputs, and appropriate technologies. A dynamic agricultural sector would provide decent jobs for men and women, helping to avoid the exodus of men to the cities, and limiting the strain on very poor households where women bear the full responsibility to head households and to farm, experts said.
Among policy measures discussed were the advancement of women's capacities through better access to education and training; the upgrading of infrastructure; and improvements in the availability of rural credit, especially to women.
Angola is in the process of preparing its graduation from the LDC status. Focusing on productive capacities, employment creation, and women's empowerment will ensure that this process evolves smoothly, participants at the meetings said.