15 April 2016
The event was jointly organized by the Istanbul Commerce University and UNCTAD with the support of the Ministry of Trade and Customs, Governorship and Metropolitan City of Istanbul and Istanbul Chamber of Commerce which have all contributed to the UNCTAD Istanbul Creative Economy Report, 2015.
The purpose of the workshop was to present an advanced version of the Istanbul Creative Economy Report 2015: Strengthening the Creative Industries for Inclusive Development. The study highlights Turkey's growing role as an economic, cultural and creative centre, with a particular emphasis on Istanbul.
The Deputy Governor of Istanbul indicated that Istanbul provides numerous opportunities regarding the creative industries, it has qualified human resources, digital infrastructure, and facilities and a location that is conducive to global cooperation and expansion into global markets.
The Secretary General of Istanbul Metropolitan Municipality indicated that Istanbul is the financial and economic heart of Turkey with the largest numbers of higher education institutions. With a population of 14.3 million, one of the most populous city in Europe, with a very young population, average 30 years old, shows the great potential for a strong population base of young creative entrepreneurs.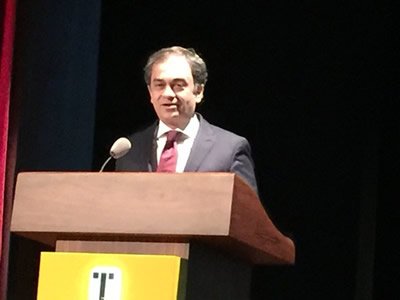 Secretary General of Mayor's office in Istanbul
The Rector of Istanbul Commerce University highlighted the important role of educational institutions, universities and training centers in providing education in arts and creative industries, in business and entrepreneurship and ICTs capacities for future creative entrepreneurs.
The President of the Istanbul Chamber of Commerce highlighted the importance of facilitating the linkages and cooperation between the students from the university and the Istanbul Chamber of Commerce for transforming creative ideas into business success.
UNCTAD highlighted that Istanbul requires a holistic strategy for the creative economy as whole, fully integrating the sector in its institutional, educational and legal design, while at the same time integrating and capitalizing on key creative industries that are leading the way to global success.
A joint video with interviews from Government and creative industries stakeholders was produced for the meeting and showcased during the event, highlighting key creative economy sectors in Turkey and Istanbul.
According to UNCTAD database on creative industries, Turkey's exports reached $7,361 millions of dollars in 2012. The study highlighted Istanbul's leading position in Turkey's cultural landscape. From TV series, Turkey's export success story, exporting to over 100 countries (Europe, Latin America and Asia) and generating an estimated yearly income of USD250 million according to the Turkish Exporter Assembly. Similarly, Turkish cinema is overtaking foreign movies in terms of box office revenue, showing the increased interest of the industry in local values.
The shift towards more value added manufacturing is also opening new job opportunities for creative designers, which is contributing to place Istanbul as a hub for designers and fashion. The music scene, advertising and video games are dynamic sectors which are increasingly influenced by technology and digitization and which have growth potential considering Turkey's young tech-savy population and growing smartphone penetration. However, IPRs remained a key condition for ensuring that creators are rewarded for their creations.
The study contains key recommendations for policy making in support of an enabling creative economy environment.