03 April 2019
Least developed countries remain inadequately prepared to capture the opportunities of digitalization, making international cooperation all the more important, a new study says.
The fast-changing digital economy offers huge opportunities for developing countries, and the world's poorest nations must not be left behind. Bridging gaps within their borders is essential, as is better cooperation between development partners and their governments, according to a study of a programme spearheaded by UNCTAD.
Launched in 2016, UNCTAD's Rapid eTrade Readiness Assessments of Least Developed Countries (LDCs) have set the standard for examining how such nations can seize the opportunities of digitalization.
The assessments, made at the countries' request, aim to help them take stock of their e-commerce capabilities and formulate related recommendations to grow digital trade.
To date, 17 such assessments have been completed, and more are on the way. A new policy impact note, released on 3 April during UNCTAD's annual eCommerce Week, takes a step back and examines the overall findings.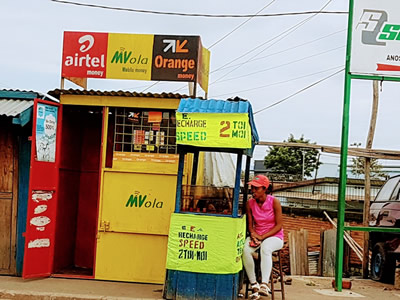 "My hope is that this note will enable LDCs to better understand the policies that should be devised to prepare for a digital future and expand e-commerce effectively along with inclusive patterns of development," said Shamika N. Sirimanne, who directs UNCTAD's technology and logistics division.
There are currently 47 LDCs, a UN category created in 1971 for nations are deemed highly disadvantaged in their development process, for structural, historical and also geographical reasons.
LDCs face more than other countries the risk of deeper poverty and remaining in a situation of underdevelopment. They are also characterized by their vulnerability to external economic shocks, natural and man-made disasters and communicable diseases.
As such, the LDCs are in need of the highest degree of attention from the international community, including when it comes to ensuring that the divide between them and other countries does not widen due to digitalization.
The 17 LDCs assessed so far are: Afghanistan, Bangladesh, Bhutan, Burkina Faso, Cambodia, Lao People's Democratic Republic, Liberia, Madagascar, Myanmar, Nepal, Samoa, Senegal, Solomon Islands, Togo, Uganda, Vanuatu, and Zambia.
With the support of key donors - Germany, the Enhanced Integrated Framework and the International Islamic Trade Finance Corporation - another eight countries will benefit from the programme in 2019 and 12 additional requests have been received, including from some non-LDCs.
The preparation of the Rapid eTrade Readiness Assessments is supported by the eTrade for all initiative – a partnership between international organizations, regional development banks, governments and the private sector that helps developing countries find information and resources on e-commerce and the digital economy.
Facing the challenges
According to the policy impact note, structural constraints facing LDCs tend to hamper the potential growth of e-commerce. The study points to the low rate  of internet users in LDCs, which stands at only 18% of the population against 81% in developed countries.
The barriers to expanding e-commerce are manifold and include limited awareness  among policy and law makers, businesses, absence of dialogue between the public and private sectors, low internet access in rural areas, costly access to fixed and mobile-broadband internet, weak legal and regulatory frameworks, unsuitable financial mechanisms and insufficient business development skills, especially for micro, small and medium enterprises (MSMEs) to start-up and grow e-commerce businesses.
With direct exports taking an average of nine days to clear LDCs' customs, against 3.9 days in developed economies, , they need to significantly improve the flow of goods,  particularly for the delivery of small parcels widely used for e-commerce.
In addition, cash transactions remain dominant in LDCs, with credit card use of just 1%  in 2016 compared to 55% in developed economies.
E-commerce is often seen as a means to help women and youth climb the economic ladder, but persistent barriers  to this in LDCs prevent them from leveling the playing field.
The policy note says that the assessments have helped generate critical inputs in various policy areas, thereby enabling countries to better understand the interlinked issues of the digital economy. They have also contributed to growing awareness about the role of e-commerce for development in LDCs and enhancing the knowledge base for a variety of stakeholders including international organizations, development partners, NGOs and civil society.
Catalyzing change
Engagement at the ministerial level has been strong, explains the note, which emphasizes several success stories, including Myanmar, where the government organized a donor-pledging event to capitalize on its assessment's recommendations.
"To fully realize the benefits of e-commerce, we need a national strategy that will align different stakeholders towards a common vision. The assessment provides a roadmap for what needs to be done, but we need to coordinate our policies and activities," said U Aung Htoo, Myanmar's deputy minister of commerce.
In addition, the note says that spurring e-commerce in LDCs requires continued support from donors for financial and technical assistance as well as the contextual understanding of the enabling conditions for e-commerce by governments. The role of governments in this regard, it says, is to improve coordination of the digital economy and e-commerce, engage the private sector in dialogue, formulate and update e-commerce rules and ensure affordable connectivity for the population.
Given that e-commerce is essentially led by the private sector, the note explains that new models of blended finance or public-private partnership mechanisms for e-commerce development in LDCs are effective solutions to accelerate the uptake of e-commerce. 
It also  recommends a rethink of existing approaches trade-related technical assistance, such as Aid-for-Trade, which is "ill-equipped" to respond to the challenges of e-commerce and the digital economy. Instead, multi-stakeholder initiatives like eTrade for all have the potential to devise new forms of cooperation.
Many regions are taking a forward-looking stance to policymaking and regulation of e-commerce, but even though common trends are emerging, there is a need for greater coordination and harmonization under regional leadership. These assessments are seen as useful tools to understand the development of the ecosystem in member countries and devise relevant regional policies, underlines the note.
UNCTAD has gathered 29 countries, eTrade for all partners and donors, to  discuss the lessons learnt and best practices for the assessments, and to draft strategies for the effective implementation of the recommendations.
The fifth edition of eCommerce Week – an annual gathering that draws leading e-commerce figures, start-ups, policy makers and officials from around the world – is taking place in Geneva from 1 to 5 April. The theme of this year's week, which comprises dozens of sessions, is "From Digitalization to Development".