28 July 2022
Youth advocacy is on the rise, turbocharging a generational movement to fight the existential threat of climate change.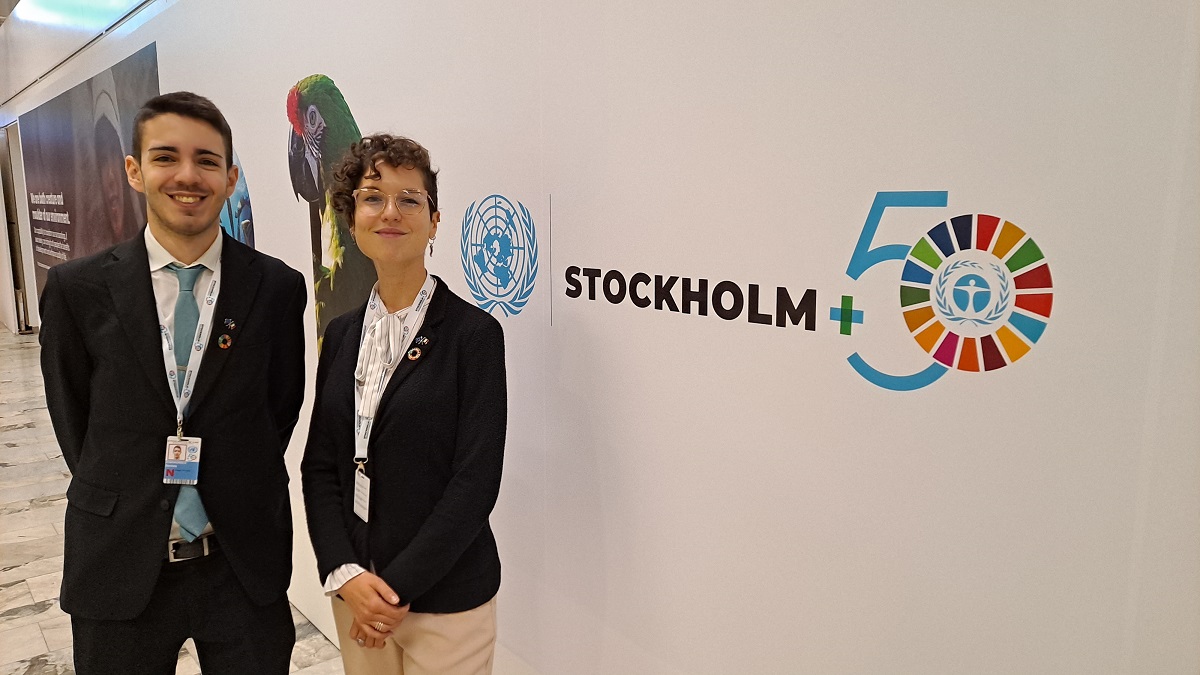 © Daniele Guadagnolo | Nadia Paleari and Daniele Guadagnolo (left) were among hundreds of youth who made their voices heard at the Stockholm+50 environment conference.
Daniele Guadagnolo and Nadia Paleari – two members of the UNCTAD-supported youth action hub in Italy – took part in Stockholm+50, a key climate conference convened by the United Nations from 2 to 3 June.
Stockholm+50 marked five decades since a historic UN meeting was held in the Swedish capital, mobilizing international environmental efforts towards a better future on a healthy planet.
"Our goal is to raise awareness on climate change, accelerate sustainable development and enable young people to influence national climate-related discussions," said Mr. Guadagnolo who leads a group of young advocates of sustainable development.
His colleague Ms. Paleari said the meeting was a reminder for policymakers to adopt greener post-COVID-19 recovery plans and acknowledge the importance of multilateralism in addressing the world's triple planetary crisis of climate change, nature loss and pollution.
The two-day conference shone a light on ecocide – the destruction of the environment by human action – as well as the importance of climate and environmental education and the urgency to drastically reduce greenhouse gas emissions caused by human activity.
It featured three leadership dialogues and more than 100 side events and webinars, with a series of regional multi-stakeholder consultations beforehand.
Proactive youth engagements
To support Stockholm+50, a youth task force kicked off in November 2021.
It comprised over 700 youth globally – including Mr. Guadagnolo's team – who were involved in the preparation of the meeting and its outcomes.
The summary of their contributions was captured in the Stockholm+50 Global Youth Policy Paper.
The document urges countries to cut emissions through four key areas of work: actions for a healthy planet, COVID-19 recovery, driving the environmental dimension of sustainable development and ensuring an inclusive decision-making process.
Youth-led recommendations
The young climate activists also made a set of recommendations while participating in a leadership dialogue at the Stockholm+50 conference.
They renewed calls for transitioning towards a circular economy, pointing out that unsustainable production and consumption practices lead to biodiversity loss, climate change and widespread pollution and waste.
"In a climate-conscious society, all stakeholders realize they are interlinked and need to work together towards the implementation of sustainable solutions," Ms. Paleari said.
"Co-creation and mutual accountability are indeed the two major issues that will drive a true change of mindset," she added.
Promoting discussions beyond Stockholm+50
The Italian UNCTAD Youth Action Hub members led a social media campaign on Stockholm+50, sharing their experiences and behind-the-scenes footage at the conference.
The campaign aimed to make the issues covered in Stockholm more accessible and understandable to the wider public.
"The direction is clear. Now we must translate all those efforts into concrete projects," Mr. Guadagnolo said.
"It is only by working together that the promise made 50 years ago and its recent evaluations will have a proper impact on the world and, ultimately, make it more sustainable for everyone."
Created at the 2018 UNCTAD Youth Forum, the Youth Action Hubs initiative empowers young people to think globally and act locally as game changers in their communities.
There are currently 46 such hubs running projects to accelerate sustainable development worldwide.