For use of information media - Not an official record
UNCTAD/PRESS/PR/2020/015
Investment flows to developed economies set to fall up to 40% after increase in 2019, says UN Report
Geneva, Switzerland, 16 June 2020
The outbreak of the COVID-19 pandemic will cause a decline in foreign direct investment (FDI) flows to developed economies of between 25% and 40%.
Falling corporate profits will have a direct impact on reinvested earnings – a major component of FDI in the group, according to UNCTAD's World Investment Report 2020.
New equity investments will be curtailed, as already reflected in the decline of cross-border mergers and acquisitions (M&As) and announced greenfield investments in the first quarter of the year.
"FDI trends could also be affected by COVID-19-related emergency measures, including increased scrutiny of inward investment," said UNCTAD's director of investment and enterprise, James Zhan.
Push for supply chain resilience
An expected push to improve supply chain resilience in critical industries could affect longer-term trends. In April 2020, the number of cross-border M&As targeting developed economies was 53% lower than the monthly average of 2019 (figure 1).
The drop in the number and value of announced greenfield projects in the first quarter of 2020 (-25%) (figure 2) is a further sign that capital expenditures of multinational enterprises (MNEs) will be cut drastically.
Flows to Europe are expected to fall the most (30% to 45%), due to the dramatic impact of the pandemic on several major economies in the region and pre-existing economic fragility. FDI flows to North America are forecast to fall by up to 35%.
Figure 1 – Average monthly number of cross-border M&As, 2019 and 2020, January-April (Number)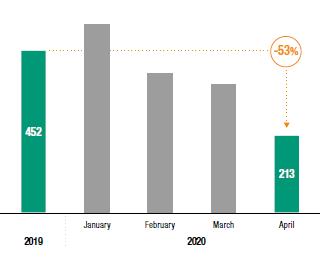 Source: UNCTAD, World Investment Report 2020.
Figure 2 – Average quarterly number of announced greenfield investment projects, 2019 and Q1 2020 (Number)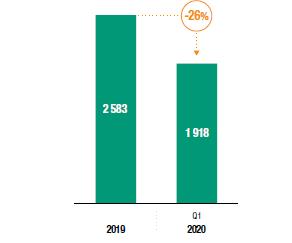 Source: UNCTAD, World Investment Report 2020.
In 2019, after three successive years of contraction, inflows to developed economies rose by 5% to $800 billion despite investor uncertainties related to trade tensions and Brexit and weakening macroeconomic performance.
FDI flows to Europe rose by 18% to $429 billion, regaining some of the ground lost since 2015. They remained at only half of their 2007 peak value. Moreover, the increase was due largely to a jump in Ireland after negative levels in 2018.
Inflows halved in Germany to $36 billion mainly due to a sharp fall of new equity investment and they fell moderately in France and the United Kingdom.
In North America FDI remained flat at $297 billion. Flows to the United States decreased by 3% to $246 billion as cross-border M&A sales targeting the country continued to decline for the fourth consecutive year, reaching $156 billion.
The United States continue to be the largest recipient of FDI flows to developed economies followed by the Netherlands (figure 3).
Figure 3 – Top 10 recipients of FDI inflows, 2018 and 2019 (Billions of dollars)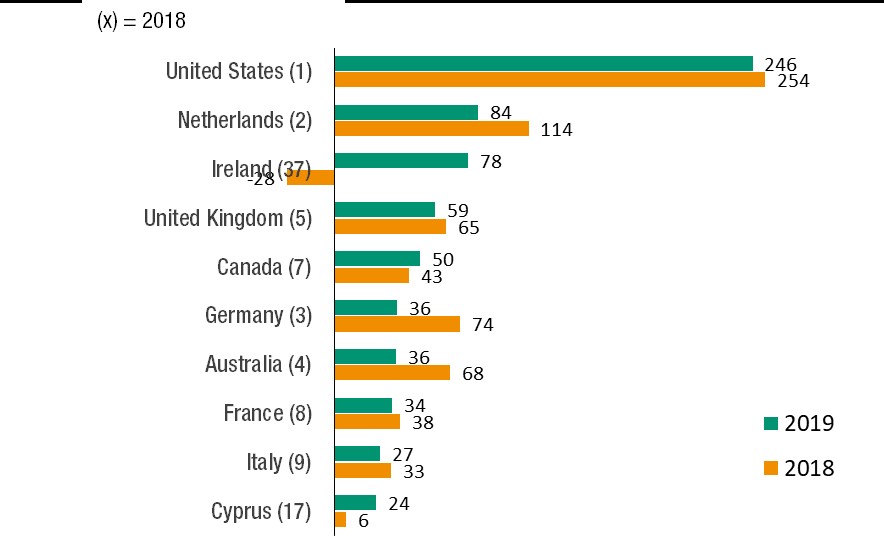 Source: UNCTAD, World Investment Report 2020.
Outward FDI flows from developed economies rose by 72% to $917 billion in 2019. The increase was mainly due to the waning of the effect of the United States tax reforms at the end of 2017, which had caused large negative outflows in 2018.
The overall level of outward FDI remained relatively low, at only about half of the 2007 peak. The value of cross-border M&A purchases by MNEs in developed countries actually fell by 34%, mainly in manufacturing and services.
Outflows from Japan – the largest investor in the world in 2019 – rose by 57% to a record $225 billion, mainly due to a jump in cross-border M&As from $36 billion to $104 billion, including one megadeal accounting for the bulk.
---