Investment flows to transition economies will decline by around 38% due to COVID-19, says UN Report

Press Release
For use of information media - Not an official record
UNCTAD/PRESS/PR/2020/017
Investment flows to transition economies will decline by around 38% due to COVID-19, says UN Report
Geneva, Switzerland, 16 June 2020
Foreign direct investment (FDI) flows to the transition economies of south-east Europe, the Commonwealth of Independent States (CIS) and Georgia, hit hard by the economic downturn caused by COVID-19, are projected to decline by around 38% in 2020. These flows will not recover before 2022, according to UNCTAD's World Investment Report 2020.
"The pandemic has provoked a recession in economies in transition that affects market-seeking FDI directly," said UNCTAD's director of investment and enterprise, James Zhan.
In natural-resource-based projects, prospects are being revised downwards as the demand for commodities weakens and the price of oil, one of the main exports from various economies in transition (Azerbaijan, Kazakhstan, the Russian Federation, Uzbekistan), remains depressed, despite efforts to resolve the price tensions between major oil producers.
Export-oriented projects located in special economic zones and producing for global value chains in south-east Europe and Moldova are also strongly affected. The situation could prove particularly difficult for the automotive value chain, in which some foreign affiliates have had to scale down or suspend their operations.
Greenfield project announcements, a key indicator of investors' intentions, were already on a downward slope in 2019 and are falling farther in 2020. In the first quarter of 2020, the number of greenfield project announcements in the region declined by 44% compared with the average quarterly levels of 2019 (figure 1).
The bust in inflows follows a boom in 2019
Inbound FDI to economies in transition increased in 2019 sharply (by 59%, to $55 billion), due to higher inflows in some large recipients, especially the Russian Federation, Ukraine and Uzbekistan (figure 2). Flows to the rest of the region declined slightly (down 3%, to $19 billion).
FDI to the CIS and Georgia together rose by 76% to $48 billion. In South-East Europe, inflows remained practically unchanged at $7.2 billion (-3%).
In the Russian Federation, FDI inflows increased by 140%, to $32 billion, after two years of decline. This value was still about 40% lower than the level recorded in 2013, indicating a temporary reversal of the downward trend in previous years.
Serbia, the second largest recipient of FDI among economies in transition, experienced an increase of 4% in 2019, to $4.3 billion. Construction (28%), transportation (16%), trade (8%) and ICT (5%) attracted sizable projects. More than half of FDI in 2019 originated from the EU.
FDI flows to Kazakhstan – the third largest recipient of FDI among these economies – declined again in 2019, dropping 17%, to $3.1 billion. The largest project started in the country was a carbide plant by a Chinese chemical producer. The United States, China and the Russian Federation were the largest source countries.
In Ukraine, FDI flows rose by 30%, to $3.1 billion, after two years of decline. Finance, ICT, mining, real estate, and electricity and gas attracted the bulk of FDI. A significant share of FDI, estimated at about one-third of the value in 2019, was reported to be roundtripping of Ukrainian capital through offshore centres.
Uzbekistan experienced a significant increase in inflows in 2019 (up 266% to $2.3 billion). Part of the inflows was related to ongoing large projects in oil and gas by Lukoil (Russian Federation).
In addition, a series of projects started in chemical production, with Chinese, Russian, Singaporean, United Kingdom and United States firms. In the textiles and garments industry, new projects were started by Chinese, German, Indian, Korean, Thai and Turkish companies.
Outflows continue to fall in the pandemic
After a decline of 37% in 2019 (to $24 billion), outward FDI from economies in transition is expected to continue its decline in 2020 and 2021, as economic recessions in home economies and low oil prices affect the capacities of multinational enterprises (MNEs) from the region to invest abroad.
In 2020, the earnings forecasts of Russian MNEs, accounting for over 90% of the FDI outflows of economies in transition in the past decade, are undergoing various downward reviews. This development limits the capacity of Russian MNEs to reinvest their earnings, which accounted for almost two-thirds of their outward FDI in 2019 and more than one-third in the previous three years.
Some Russian industries are hit particularly hard. For 2020, the oil and gas industry, which represented a large part of FDI in the previous decade, is now forecast to lose $9.8 billion in earnings, due to low prices and the production cut of 2.5 million barrels per day under the terms of the country's deal with other producers.
Earnings were already down in the first quarter of the year in most industries, and worse is expected to come afterwards. It was at the beginning of the second quarter that the government decreed a six-week nationwide "non-working period", shutting down an estimated 30% of the Russian economy. That measure further accelerated the decline in corporate earnings.
Russian MNEs have been and will remain cautious about foreign expansion, especially in developed-market economies, in which they face increasing restrictions in access to international finance and technology, as well as acquisitions of firms.
Withdrawal from traditional target countries was partly compensated for by investment in new markets. For example, Russian MNEs have initiated various projects in Africa, some of them backed by a Russian government initiative aimed at strengthening economic links with the continent (the first Russia–Africa Summit and Economic Forum in 2019).
Figure 1 - Average quarterly number of announced greenfield investment projects, 2019 and Q1 2020 (Number)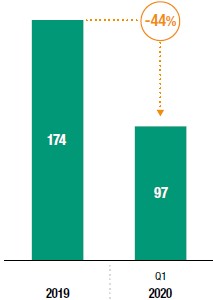 Source: UNCTAD, World Investment Report 2020.
Figure 2 - Top 5 recipients of FDI inflows, 2018 and 2019 (Billions of dollars)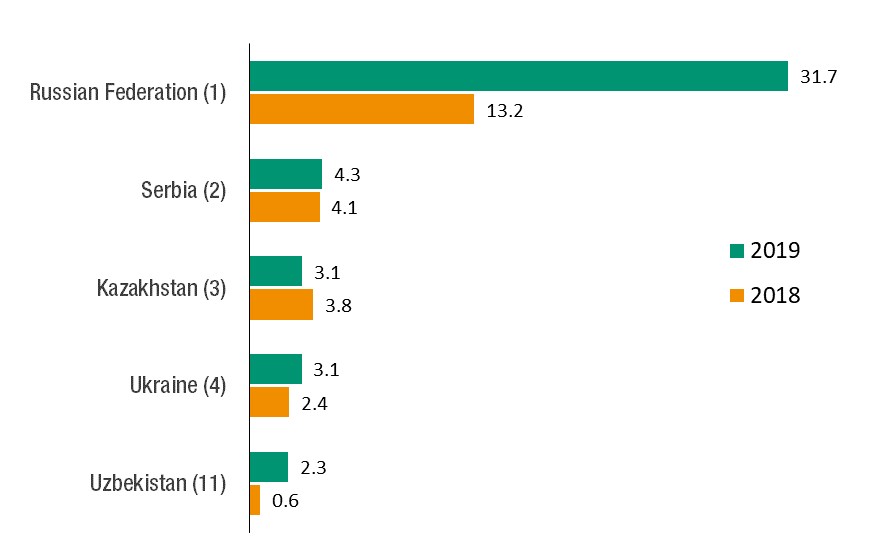 Source: UNCTAD, World Investment Report 2020.
---