UNCTAD's Review of Maritime Transport 2020: highlights and figures on Asia and the pacific
UNCTAD's Review of Maritime Transport 2020: highlights and figures on Asia and the pacific

Press Release
For use of information media - Not an official record
UNCTAD/PRESS/PR/2020/032
UNCTAD's Review of Maritime Transport 2020: highlights and figures on Asia and the pacific
Geneva, Switzerland, 12 November 2020
Below are highlights and figures on Asia and the Pacific from UNCTAD's Review of Maritime Transport 2020 released today and the organization's other analyses.
Impact of COVID-19
Asia dominates the global maritime trade. Nonetheless, maritime trade in the region has been negatively impacted by the COVID-19 pandemic. Looking at sub-regional merchandise trade data, the impact has been mixed. According to UNCTAD's estimates, trade in East Asia fared relatively better than in other regions following COVID-19. This trend is even more evident for the month of July, with imports falling by 4% and exports by 1%, a sharp contrast with the double-digit decline rates in other regions. Meanwhile, sharp declines have been recorded in West and South Asia sub-regions, where imports have dropped by 23% and exports by 29%.
Constraints on transportation and logistics and lack of workers have prevented the timely delivery of components from China and other countries to factories in South-East Asia during the pandemic. As a result, response measures such as sourcing directly from Viet Nam, switching from land to air freight, and rerouting shipping lanes that previously included stops at Chinese factories have been implemented.
Growing e-commerce will put more pressure on warehousing and distribution capacity, as business will want to ensure the availability of safety stocks and buffers. In turn, this will increase demand for storage and space which is already outpacing the supply in Asia.
Asian ports experienced a moderate decrease in liner shipping connectivity levels. While the initial effect on China's port connectivity was moderate during Q1 of 2020, the impact intensified during Q2, with growing lockdowns and restrictions on global economic activity and the movement of people and goods. Trends in Oceania were similar to those observed in Asian ports, but the impact was more pronounced during Q2 of 2020.
The impact of the pandemic may be longer lasting and more critical on small island developing states (SIDS) of the Pacific region. The disruption was an additional setback for SIDS in the Pacific, which were already experiencing climate change-related and extreme weather events, such as the severe Tropical Cyclone Harold.
A major impact of the COVID-19 pandemic in various parts of the world was port congestion, caused by limitations on cargo movements in and out of ports. For example, by the end of April 2020, 100,000 twenty-foot equivalent units (TEUs) remained uncollected from container freight stations near Jawaharlal Nehru port, and about 50,000 TEUs remained uncleared at Chennai port.
Asian countries active in shipbuilding, seafaring and ship recycling have been affected by the pandemic due to reductions and delays in newbuilding delivery and the freeze in ship recycling activity, in addition to lockdown measures and travel restrictions.
Some actors have already taken steps towards risk management and resilience-building. One example is an initiative launched by the Maritime and Port Authority of Singapore, Singapore Shipping Association and Infocomm Media Development Authority to support maritime companies in digital transformation. This includes support in formulating their digitalization roadmaps, in guiding execution as well as benefiting from maritime digital platforms covering port clearances and services, trade documentation, trade operations and financing.
Demand: key trends in seaborne trade and port cargo traffic in 2019
Asia continued to dominate the global maritime trade arena. In 2019, the region accounted for 41% of goods loaded and 62% of goods unloaded (see figure 1). The region has strengthened its position as a maritime hub that brings together more than 50% of global maritime trade volumes.
Figure 1 – Asia's share of global maritime trade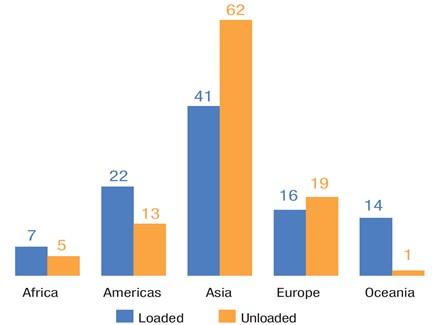 Source: UNCTAD Review of Maritime Transport 2020
Developing countries in Asia accounted for 76% of all maritime trade loaded and unloaded in developing regions.
Oceania (Australia, New Zealand and SIDS in the Pacific) accounted for 14% of world maritime exports in 2019 and only 1% of world maritime imports (goods unloaded). Export volumes from the region reflect, to a large extent, Australia's exports of dry bulk commodities.
The continued prominence of Asia as the world's factory continued to boost expansion in intra-Asian container trade, with a growing contribution from South-East Asia. Together, intraregional trade, principally intra-Asian flows, and South-South trade represented about 40% of total containerized trade in 2019.
Trade tensions between the United States and China impacted on maritime trade in 2019, with some countries benefiting from the change in trade patterns and routing.
Viet Nam benefited the most from those changing trade patterns. The market shares of Cambodia, Indonesia, Malaysia, the Philippines, Singapore and Thailand did not increase at the same pace as those of Viet Nam.
With regard to tanker trade, despite the trade tensions, long-haul United States exports to Asia continued to expand steadily in 2019 due to substitution trends and limited growth in western Asian exports stemming from sanctions and supply-side reductions.
Asia also remained the leading global player in container port cargo handling, with a share of nearly 65% of global container port traffic, whereas Oceania (Australia, New Zealand and SIDS in the Pacific) contributed less than 2%.
The ranking of the world's top 20 container ports in 2019 changed little compared with 2018. However, Asian ports maintained their position, with 16 among the top 20 world container ports being located in Asia. Of these, eight were in mainland China, one in Hong Kong SAR and one in Taiwan, Province of China.
Of note in container port activity, is the impact of regulatory changes at the country level. For example, the Indian port of Visakhapatnam and Krishnapatnam benefited from increased transshipment and coastal traffic generated by a relaxation of the country's cabotage rules. In Sri Lanka, the port of Colombo recorded a subdued growth, reflecting to some extent some erosion in transshipment cargo because of the amended cabotage rules in India.
Shipping fleet developments and markets
Asia is an important maritime transport player, not only as a user of maritime transport services and a leading maritime hub, but also as a service provider (see, for example, China's contribution to different maritime segments in figure 2).
Figure 2 - China's contribution to different maritime segments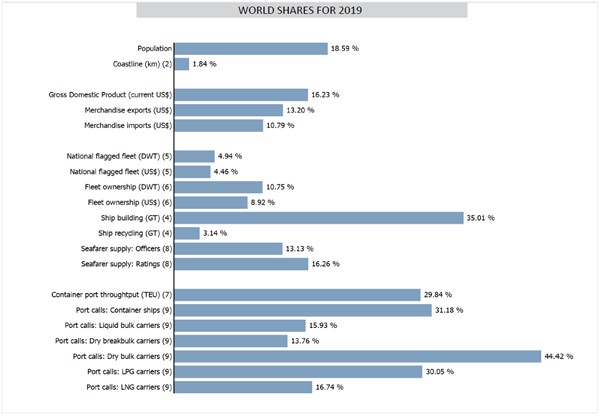 Source: UNCTAD Maritime Country Profiles
Maritime country profiles: https://unctadstat.unctad.org/CountryProfile/MaritimeProfile/en-GB/156/index.html
As of 1 January 2020, about half of the countries that featured among the top 20 ship-owning countries, ranked by carrying capacity in deadweight tons, were located in Asia.
As of 1 January 2020, three of the top 10 countries of ship registration by dollar value were located in Asia – China, Hong Kong (Special Administrative Region of China) and Singapore.
China, Japan and the Republic of Korea maintained their traditional leadership in shipbuilding, representing 92.5% of the newbuilding deliveries in 2019. The Republic of Korea's market share increased by 7.3 %, while China's share fell by 5.1 %. Each country specializes in different shipping segments:
China is the leading builder of bulk carriers (56.2%), offshore vessels (58%) and general cargo ships (34.6%).
The Republic of Korea is the leading builder of gas carriers (62.8%), oil tankers (59.4%) and container ships (41.7%).
Japan is the leading builder of chemical tankers (54.1%).
Bangladesh remains the country with the largest global share of recycled tonnage, accounting for more than half of the ships recycled in 2019. Together with India and Turkey, these three countries represented 90.3% of the ship recycling activity in 2019.
Liner shipping connectivity (country and port level) and port performance
UNCTAD's liner shipping connectivity index (LSCI) performance for the top five Asian ports from the first quarter of 2006 to the third quarter of 2020 is presented in figure 3 below. In 2020, six of the 10 best-connected economies are in Asia (China; Hong Kong, China; Japan; Malaysia; Republic of Korea and Singapore, while three are in Europe (Spain, the Netherlands and the United Kingdom), and one in North America (the United States).

Figure 3 - Top 5 Asian ports, first quarter 2006 to third quarter 2020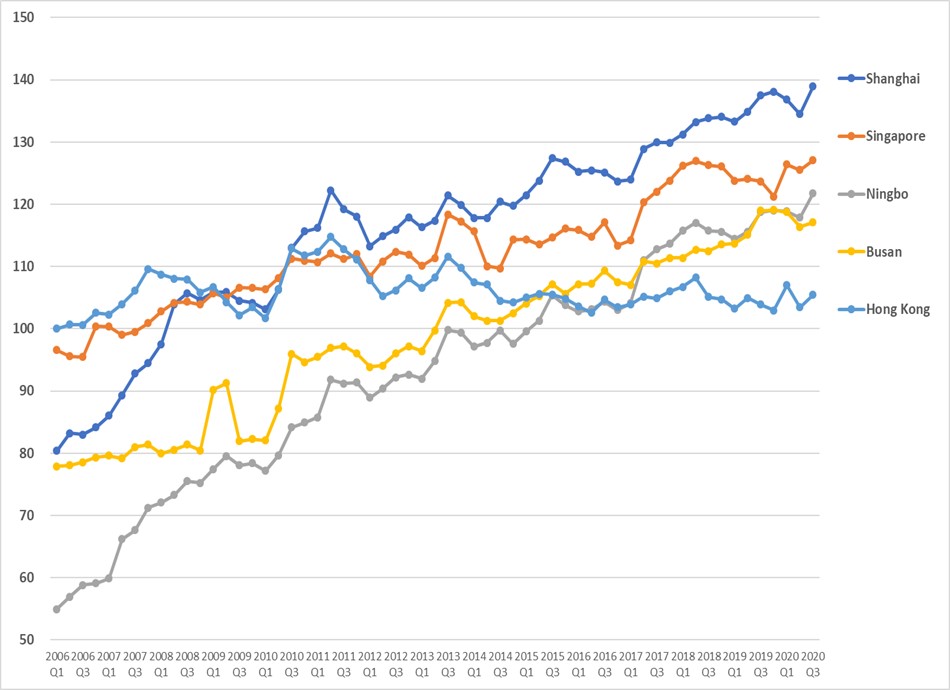 Source: UNCTAD calculations, based on data provided by MDS Transmodal.
The LSCI of all ports: https://unctadstat.unctad.org/datacentre/dataviewer/US.PLSCI
China - the best-connected country - improved its liner shipping connectivity index by 56% from the baseline year 2006, while the global average liner shipping connectivity index went up by 50% during the same period.
In 2020, five of the top 10 ports are located in China (Hong Kong, Ningbo, Qingdao, Shanghai and Xiamen), three are in other Asian countries (Malaysia, the Republic of Korea and Singapore), and two are in Europe (Belgium and the Netherlands). The liner shipping connectivity index of almost all the top 10 ports has risen significantly since 2006, except for Hong Kong, China, which has been overtaken by four other ports.
The top 50 best-connected port pairs are on intraregional routes, almost exclusively within Asia, except for two connections within Europe.
Maritime labour force and changing skill requirements
Future work in the maritime sector will look very different from how it does today – there will be less jobs onboard ships and more onshore jobs, requiring a more adaptable workforce. Reskilling and retraining will be crucial in preparing workers for the transformations that will arise due to advanced technologies and automation. This is of particular importance to Asian countries that are suppliers of global maritime shipping labour such as – by order of ranking – China, the Philippines, Indonesia and India.
---