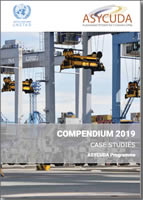 The 2030 Agenda for Sustainable Development and its 17 Sustainable Development Goals (SDGs), adopted by all 193 Member States in 2015, is the most ambitious development plan ever conceived by the UN. 232 statistical indicators are to be produced by Member States to benchmark progress towards the SDGs.
The 2018 SDGs reporti highlights the progress being made as well as the challenges of the 2030 Agenda like the collection, processing and analysis of data for the compilation of global indicators. We at UNCTAD assist member countries in producing such indicators and statistics and in reaching the SDGs.
The ASYCUDA (Automated System for Customs Data) Programme, the largest technical assistance programme of UNCTAD, contributes to the achievement of the SDGs and production of trade-related statistics through its customs automation, modernization and reform projects.
This involves the implementation of ASYCUDAWorld, a computerized customs management system that covers foreign trade procedures, and/or the implementation of ASYPM (ASYCUDA Performance Measurement), a module developed with WCO for measuring performance through trade-related indicators.
The ASYCUDA programme is known and recognized worldwide for its contribution to the modernization and automation of customs procedures. However, its impact has broadened over time at the request of the member countries.
This compendium details some of the achievements and benefits reported by user-countries after implementing the ASYCUDA systems in the form of case studies. This further demonstrates that ASYCUDA is not only a technical assistance programme but very much a development programme.
I wish to thank all Member States that shared their stories and participated in the preparation of these case studies, for the trust they placed in UNCTAD to assist them and for accepting to share national statistics. This work could not have been possible without their assistance and support.

Dr. Mukhisa Kituyi
Secretary-General of UNCTAD