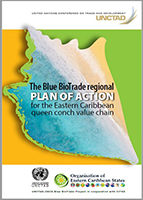 UNCTAD, in collaboration with the OECS and CITES, and with the financial support of the European Union through the RIGHT Programme, implemented the first phase of the regional project, "Seizing the Trade and Business Potential of Blue BioTrade
Products for Promoting Sustainable Livelihoods and Conservation of Marine Diversity in Selected OECS Countries (Blue BioTrade project)" from October 2020 until the end of 2022.
The objective of the Blue BioTrade project is to empower small-scale coastal producers from OECS Member States to produce and trade queen conch (Strombus gigas) products in domestic, regional and international markets under Blue BioTrade environmental, social and economic sustainability criteria, including CITES considerations.
The OECS Blue BioTrade Regional Plan of Action for the Eastern Caribbean Queen Conch Value Chain is a key output of the project.
This regional plan of action is intended to support the sustainable development of the queen conch value chains of Grenada, Saint Lucia and Saint Vincent and the Grenadines, in line with the BT P&C, for improved environmental and social sustainability alongside tangible benefits (economic sustainability) for coastal people and those involved in the queen conch value chain.
It proposes strategic actions that can serve as inspiration and be used as a model for the sustainable management and trade of other marine biodiversity-based value chains in the Caribbean and other countries or regions.