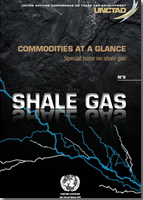 (N°9 - May 2018)
The future of energy is among the top issues on the international agenda for sustainable development and is expected to remain as such in the years to come.
This is especially true in the light of the recently adopted 2030 Agenda for Sustainable Development, in particular Sustainable Development Goal 7, which aims to ensure affordable, reliable, sustainable and modern energy for all by 2030.
Moreover, the recent Paris Agreement under the United Nations Framework Convention on Climate Change has galvanized international mobilization towards tackling the effects of climate change at a time when Governments have reaffirmed their intention to ensure energy access for all by 2030.
The combination of these international instruments raises the need to decide which strategy should be adopted with regard to the issue of unconventional energy sources.
Individual States and local and regional institutions display different and sometimes contradictory views with regard to the issue of unconventional energy sources and of shale gas and shale oil in particular.
Shale gas is the focus of the current edition of the Commodities at a Glance series. Conflicting views have emerged concerning, for example, its potential contributions to the economy, its impact on job creation and its negative effects on the environment.
The main challenge of this report has been to offer a dispassionate perspective on these aspects in order to make informed decisions about issues related to shale gas activities.
In this regard, important developments have occurred in the United States of America since the mid-2000s. This period has been mainly referred to as the "shale gas boom or revolution" and the growth of natural gas production in the United States through shale gas extraction has led to a sharp drop in domestic natural gas prices.
At the same time, in Europe, some countries have decided to ban the production of shale oil and shale gas in their territories or to prohibit the use of its main production technique, namely hydraulic fracturing.
In view of these developments, it is relevant to analyse to what extent shale gas can contribute to the future of the energy landscape and highlight the challenges this may involve.
The aim of this report is to set out the facts, analyse them and draw conclusions independently of the passion that is generally associated with discussions on this issue.
This is important in order to inform decisions on whether or not the exploration and development of shale gas deposits should be undertaken, and what the framework for such activities should be, irrespective of the fact that shale gas is already extracted in some countries and planned in others.