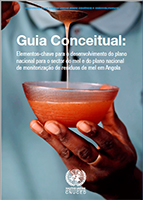 Under the Train for Trade II programme, funded by the European Union, the Government of Angola and UNCTAD implemented a National Green Export Review project with the aim of strengthening the technical and commercial capacities of Angolan professionals.
New parameters for animal products risk limiting market access for many producers in developing countries who do not have the capacity to fully understand and comply with these rules. This continues to be the case for producers in Angola, particularly rural producers of honey and other artisanal products.
Honey is a product of great economic and cultural importance in Angola, which is why UNCTAD and rural producers have joined forces to ensure its quality and food safety, with the aim of protecting consumers and promoting fair trade.
This guide aims to train professionals involved in the Angolan beekeeping sector to guarantee product quality and compliance with international standards.Throughout the text, the challenges and opportunities related to monitoring residues in honey will be systematically addressed.
This document presents clear guidelines, appropriate sampling methods, reliable laboratory analysis procedures and residue control strategies for honey. By implementing the guidelines presented in this fundamental guide, stakeholders will be able to build a more resilient and competitive beekeeping sector in Angola.
UNCTAD is pleased to offer this guide as a useful tool for honey producers, regulatory authorities, laboratories and other stakeholders involved in Angola's beekeeping sector.
Chantal Line Carpentier
Head, Trade, Environment, Climate Change and Sustainable Development Branch
UNCTAD
---
No âmbito do programa Train for Trade II, financiado pela União Europeia, o Governo de Angola e o Departamento de Comércio, Ambiente, Alterações Climáticas e Desenvolvimento Sustentável da UNCTAD implementaram um projecto de Revisão Nacional de Exportações Verdes com o objectivo de reforçar as capacidades técnicas e comerciais dos profissionais angolanos.
Novos parâmetros para produtos de origem animal, arriscam limitar o acesso ao mercado para muitos produtores de países em desenvolvimento que não têm a capacidade de compreender e cumprir integralmente essas regras. Este continua a ser o caso para os produtores em Angola, particularmente os produtores rurais de mel e outros produtos artesanais.
O mel é um produto de grande importância económica e cultural em Angola, pelo qual, a UNCTAD e os produtores rurais se juntaram para assegurar a sua qualidade e segurança alimentar, visando proteger os consumidores e promover o comércio justo.
Este guia visa formar profissionais envolvidos no sector apícola angolano para garantir a qualidade do produto e a conformidade com os padrões internacionais. Ao longo do texto, serão abordados de forma sistemática, os desafios e oportunidades relacionados com o monitoramento de resíduos no mel.
Este documento apresenta directrizes claras, métodos de amostragem adequados, procedimentos fiáveis de análise laboratorial e estratégias de controlo de resíduos para o mel. Ao implementar as directrizes apresentadas neste guia fundamental, os intervenientes poderão construir um sector apícola mais resiliente e competitivo em Angola.
A UNCTAD tem o prazer de oferecer este guia como uma ferramenta útil para os produtores de mel, autoridades reguladoras, laboratórios e outras partes interessadas envolvidas no sector apícola de Angola.
Chantal Line Carpentier
Head, Trade, Environment, Climate Change and Sustainable Development Branch
UNCTAD