Small island developing States
Small island developing States (SIDS) face an uphill battle as they strive to recover from the impact of the COVID-19 crisis amid vulnerabilities worsened by the pandemic.
The 2021 edition of UNCTAD's Development and Globalization: Facts and Figures report, highlights the numerous strengths and challenges facing these economically vulnerable countries.
"This report offers a unique perspective on SIDS by combining a wide variety of statistical information to examine these countries from the aspects of trade, the economy, the environment and society.


I hope the report will serve as a useful statistical and analytical tool for the SIDS themselves and for all those interested in understanding these islands."

Isabelle Durant
Acting Secretary-General, UNCTAD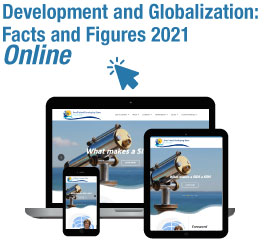 Vulnerable to shocks
While SIDS are a diverse group of countries, they share many socioeconomic and environmental challenges. SIDS are highly vulnerable to external economic and financial shocks, at least 35% more than other developing countries, according to the report. It also analyses the concepts of smallness, and islandness as a function of remoteness or isolation.
2020 was a particularly challenging year for SIDS. In the wake of the pandemic, SIDS experienced an estimated fall in GDP of 9% in 2020, compared with a 3.3% decline in other developing countries based on IMF projections data.