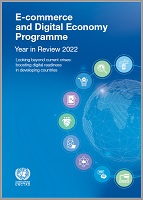 Looking beyond current crises: Boosting digital readiness in developing countries
The year 2022 was not without challenges. The supply-chain pressures from a protracted COVID-19 pandemic in some parts of the world and the war in Ukraine gave rise to a cost-of-living crisis for many, in particular the world's most vulnerable households, prompting concerns of food and energy insecurity and instability of the public financial system.
In 2022 human development fell back to its 2016 levels, reversing much of the progress towards the Sustainable Development Goals (SDGs). The need to recover lost ground in global efforts to meet the SDGs renders the role of digitalization and data for development even more important and makes UNCTAD's work in this area all the more relevant.
Against this background, the E-Commerce and Digital Economy Programme delivered on the strengthened mandate that member States gave UNCTAD in the Bridgetown Covenant to assist developing countries seeking to enhance their readiness to engage and integrate into the digital economy.
The acceleration of digital transformation over the past couple of years is both a consequence of the forces at play and an opportunity to enable more inclusive and resilient economic recovery from current crises. Such a recovery will necessitate an innovative and sound approach to digital and data governance for development, further capacity building on various aspects of e-commerce and the digital economy and sustained multi-stakeholder dialogue and cooperation.
I am proud of the results the Programme achieved to this end in 2022 and I would like to express my sincere appreciation to our partners, donors and beneficiaries for their trust in our work on enhancing developing countries' capacity to harness digitalization for inclusive and sustainable development gains in the past year. In recognition of the importance of further strengthening the Programme, member States also decided to allocate increased resources to it from the UN's regular budget.
We count on continued support in 2023 and beyond as we pursue our work in the lead up to the United Nations Summit of the Future in 2024 and a Global Digital Compact for an open, free, secure and inclusive digital future.
Shamika N. Sirimanne
Director, Division on Technology and Logistics