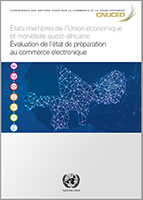 E-commerce readiness in West African Economic and Monetary Union (WAEMU) countries is facing several constraints that need to be considered while the Economic Community of West African States (ECOWAS) region is looking into the development of a regional e-commerce strategy:
A growing e-commerce demand in the WAEMU countries but consumers' readiness is low.
The e-commerce ecosystems emerging at different development levels depending on the country, directly or indirectly related to e-commerce through the development of the digital economy, e-commerce platforms, and dematerialized payment solutions.
The expansion of e-commerce is limited everywhere by Internet access, which depends on the ICT infrastructure extent and reliability, both at the backbone and mesh level, and last mile access. These difficulties of access are further reinforced by unequal access to electricity.
The delivery services are generally insufficient, due to the quality of postal services, road infrastructure and addressing issues.
The dematerialization of payments and the definition and application of a legal framework to secure the various participants in the e-commerce supply chain are also major challenges.
Future e-commerce growth in the region will require:
A multidisciplinary and inclusive approach to regulation and policy making and regional dialogues, experience sharing for the development of e-commerce in WAEMU.
ICT Investments based on mutualization and sharing of telecommunications infrastructure, interoperability of ICT services, strengthening competition and transparency in the digital sector.
The adoption and implementation of development plans to promote affordable and inclusive broadband access to ICT networks.
The development of addressing systems by using new technologies (e.g. geolocation).
The enhanced cooperation of WAEMU and ECOWAS Commissions together with the BCEAO, to accelerate the interoperability of digital financial services.
The development by the private sector of payment solutions adapted to the populations' needs.