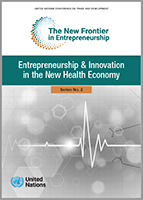 The New Frontier in Entrepreneurship, Issue No. 2
This publication analyzes the increasingly important role played by entrepreneurs of small and medium-sized enterprises and start-ups in strengthening health systems in developing countries.
It builds on three sessions of the World Investment Forum that took place in 2021, focusing on entrepreneurship in the new health economy in Africa, Latin America and the Caribbean and Asia-Pacific.
The main findings are the following:
To promote innovation in the health sector, it is important to strike an appropriate regulatory balance.

While regulation is necessary to protect patients and to ensure that only safe and high-quality products and services enter the market, excessive regulation can stifle innovation.

The innovation opportunity offered by the rise of data analytics, machine learning and AI, means that one of the primary challenges concerns privacy and data management. Clarity with regard to regulatory processes is equally important to avoid uncertainty for investors.

In the healthcare industry, regulation and access to finance are closely linked.

Access to finance is important for entrepreneurs in general, but even more so in health sectors. Longer timelines and higher levels of requirements to obtain funding are often an insurmountable obstacle for start-ups.

Investors have to wait longer for a return on their investment than in other sectors. Additionally, banks and other traditional sources of finance are sometimes not familiar with the healthcare industry.

There is a need for stronger linkages between funders and entrepreneurs, based on a good contextual knowledge of local market specificities.

Private sector innovation does not always integrate well in public health institutions.

In many countries there is a lack of trust towards innovation in health sectors.

It can be difficult to inform and convince the different stakeholders in the healthcare value chain, and there are often contradictory incentives between stakeholders.

This affects the link between product innovation and services innovation. It is also a major barrier to the scalability and sustainability of health innovation. Public institutions can play a role in building bridges between the different stakeholders.