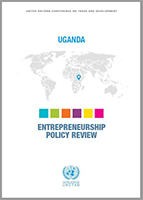 The Entrepreneurship Policy Framework and Implementation Guidance aims to support developing country policymakers in the design of initiatives, measures and institutions to promote entrepreneurship. It identifies policy objectives and options in the form of recommended actions, and proposes checklists, case studies and good practices. It also offers a user guide and methods for policy monitoring and evaluation, suggesting a set of indicators to measure progress.
---
Uganda has a number of well-crafted policies and strategies that describe actions to be taken to promote the development of entrepreneurship and MSMEs.
The National Entrepreneurship and MSMEs Strategy (NES) engaged a holistic approach and examined a variety of ways to create and nurture the synergies between the different pillars of UNCTAD's Entrepreneurship Policy Framework (EPF); Uganda's MSMEs Policy of 2015; and the National MSMEs Strategic Plan 2016/2017-2020/21.
It integrates crucial entrepreneurship elements to the existing documents targeting private sector development and is aligned to Uganda's National Development Plan 2020/21-2024/25 (NDP III), among others.
The approach of the NES is guided by NDP III, the NRM Manifesto and UNCTAD's EPF to ensure policy relevance and impact:
Particular challenges of the country were identified through literature review and analysis conducted in the field of entrepreneurship and private sector development
Specific objectives to be achieved (section 3)
The set priority actions (section 4) which are aligned with other national policies
The indicators to measure the results and ensure policy learning are detailed under "monitoring and evaluation" (section 5).
The NES has been developed through a consultative process that was coordinated by UNCTAD and MTIC together with the main stakeholders involved in MSMEs development.