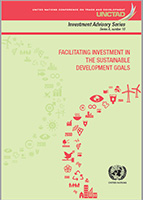 Investment Advisory Series A, number 10
This guide is intended for investment promotion officials, typically working within IPAs. It aims to provide practical recommendations for IPAs to leverage a greater SDG impact from their investment facilitation activities and, in turn, strengthen the SDG impact of their countries' wider investment facilitation ecosystems.
It is a response to the UNCTAD 2014 SDG Investment Action Plan that calls for transformative initiatives and priority actions to help shape a "big push" for private investment in sustainable development (UNCTAD, 2014).
This guide complements issue number 8 of the Investment Advisory Series, Promoting Investment in the Sustainable Development Goals (UNCTAD, 2018), which provides guidance and tools to IPAs on the identification of target sectors; the selection of SDG-related projects for development and promotion; the marketing of these projects and the targeting of investors, including MNEs, development finance institutions, impact investors and other organizations interested in SDG financing.
This issue elaborates on the facilitation of investment in the SDGs and the role of IPAs. Once investor interest in a location and a project is triggered, there is a need for facilitation to win the investor's project and develop it over time.
Given the rise in importance of digitalization and the impact it is having in transforming the way that IPAs are working, a special chapter focuses on the digitalization of investment facilitation and provides an overview of digital tools that can support IPAs in making their operations and SDG investment services more efficient.