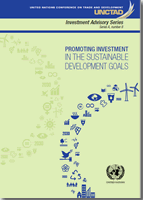 Investment Advisory Series A, Number 8
Investment promotion agencies (IPAs) typically target investors that seek market opportunities, pursue greater efficiencies to lower costs, look for resources, or search for strategic assets.
An IPA does this by presenting investors with the location's relative advantages and by providing information and assistance specific to the project which the investor has conceived.
Sustainable Development Goal1 projects – which may include projects in basic infrastructure, food security, climate change mitigation and adaptation, recycling, or health and education – are often government-conceived, and have not historically been promoted by IPAs.
Rather, bids for their construction and operation are advertised by the same government offices that design, administer, regulate and contribute public investment into those projects. However, facing an estimated $2.5 trillion annual global shortfall in investment for the Sustainable Development Goals in developing countries, UNCTAD (2014) suggests that Governments may leverage the marketing capacities of their IPAs to better compete for that scarce investment and increase the pool of available capital, including foreign direct investment (FDI).
IPAs could particularly help mobilize underexploited sources of finance and expertise, such as multinational enterprises (MNEs) operating in the development of hard and soft infrastructure, development finance institutions and special development programmes, as well as investment guarantee schemes to mitigate investment risks.
The range of Sustainable Development Goal-related projects which an IPA might find itself promoting is wide, and each one can be complex in its own way, in terms of partners, technical aspects, financial structures and regulations. An IPA with a substantial portfolio of such projects to promote must be able to systematically collect, store and present data on each project.
This guide follows the discussion of the eight-step process above with a project profile template, which allows IPAs to understand, compare, aggregate and quickly analyse projects for the purposes of:
Organizing their pipeline of projects with Goal benefits

Assessing commercial viability and, therefore, promotability

Prioritizing projects in the pipeline, using assessed promotability and anticipated Goal impacts

Marketing projects by presenting crucial information to potential investors succinctly and persuasively
This tool can be used to market an IPA's project portfolio to an expanded group of actors that are interested in participating in Goal-related investments. These include MNEs and institutional investors, such as pension funds and sovereign wealth funds, but also non-equity financers, such as development finance institutions, private foundations, non-governmental organizations (NGOs) and investment guarantee schemes.
Intermediaries, such as outward investment promotion agencies, can also play an important role, since they support their domestic firms to internationalize, thereby creating new sources of FDI.