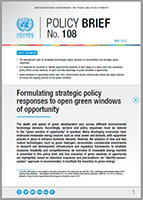 UNCTAD Policy Brief No. 108
The depth and speed of green development vary across different environmental technology domains. Accordingly, sectoral and policy responses must be tailored to the "green window of opportunity" in question.
Many developing economies have embraced renewable energy sources such as solar power and biofuels, with supportive policies in place to enhance domestic demand. However, the adoption of new and less mature technologies, such as green hydrogen, necessitates considerable investments in research and development, infrastructure and regulatory frameworks, to establish economic feasibility and competitiveness.
An overview of renewable energy markets is presented in this policy brief, and four scenarios of green windows of opportunity are highlighted, based on individual responses and preconditions. An "identify-assesssustain" approach is recommended, to facilitate the transition to green energy.
Key Points:
The development path of renewable technologies highly depends on preconditions and strategic policy responses.
It is essential for countries to identify opportunities available at each stage of a value chain and coordinate policy efforts across domains, to open and take advantage of green windows of opportunity.
Green windows of opportunity evolve over time; Governments should continuously review and adjust policies to ensure the ongoing success of the green transition.