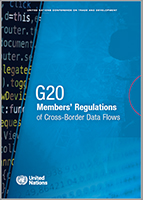 Accelerated digitalization has marked the experience of many in the past few years. This has led to a surge in digital data and data flows across borders. It is fair to say that we are still looking for answers on the best approaches to handling data to ensure favourable outcomes. However, how we deal with data and data flows will have significant implications for our ability to meet the Sustainable Development Goals. And it will affect the lives of people in countries at all levels of development. This therefore remains one of the main policy challenges of our time.
This report, and its underlying survey of G20 member States and invited guests during Indonesia's 2022 G20 Presidency, highlight the multidimensional nature of data and consequently the multitude of legislation which impact many areas for policy making, including child protection, health, competition, financial markets, and data governance.
Harnessing data for all people and the planet will require new thinking on and innovative approaches to the governance of data. The discussions within the G20's Digital Economy Working Group fostered efforts to strengthen stakeholders' understanding of commonalities, complementarities, and elements of convergence between regulatory approaches, including the existing regional and multilateral arrangements, that enables data to flow with trust.
Previous UNCTAD publications and research have demonstrated that the challenge going forward is to govern data and data flows in such a way that gains can be shared more equitably. And this process must allow for sufficient policy space for countries at varying levels of digital capabilities, to promote national priorities and development objectives, while also addressing possible risks from digitalization.
This report reflects UNCTAD's commitment to providing new knowledge and insights to policy makers and to contribute to the much needed dialogue among member States on how to govern cross-border data flows with a view to fostering sustainable development.
While the body of this report looks at G20 participants, the United Nations has a key role to play, being the most inclusive forum in terms of country representation.
Important lessons can perhaps be drawn from the work on climate change, ensuring that all development aspects are considered. In the Digital Economy Report 2021, we recommended the establishment of a body or mechanism to facilitate more dialogue and coordination on data governance. It would need to be multilateral, multidimensional and multistakeholder in its approach.
This report can contribute to building greater awareness of all the relevant areas that Governments are considering in the context of data governance, and support evidence-based consensus-building towards improving a balanced global approach to governing data.