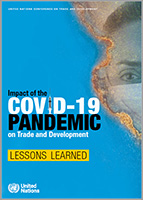 Two years might not be enough to have a full understanding of all that took place due to the coronavirus disease (COVID-19) pandemic since 2020, especially as the pandemic is still not over. But it is nonetheless imperative that institutions such as ours try to find instances, such as this, to pause and reflect on all that has happened recently – both the deep recession of 2020, and the fragile and uneven rebound the world witnessed last year – to derive valuable lessons for the future.
This 2022 report, Impact of the COVID-19 Pandemic on Trade and Development: Lessons Learned, attempts to provide our most comprehensive take on the pandemic yet, using for that purpose all the analyses we have undertaken from the beginning of this crisis. This task is not easy. COVID-19 has spread across the globe like a domino, reaching every corner and creating disruptions unprecedented in recent history.
The pandemic has shown how interconnected we are, but also how deep asymmetries between countries run in many different dimensions: in mobilizing resources to deal with and recover from the crisis; offering social protection to those most severely affected; and getting access to vaccines for the many billions who need it and having health coverage for all.
It is hard to take stock of all that has happened, both for good and for bad. But it is important to remember both, however difficult the nuance. Because this is a complex crisis – systemic, disruptive, transformational – and only in understanding this complexity will we find the key to provide better responses in the future.
The world has suffered severe setbacks with the pandemic. In addition to the human loss and suffering and difficulties in maintaining decent livelihoods, some of the hard-won gains in gender inequality and access to education have been lost.
Many of us have called for urgently addressing these asymmetries to avoid a lost decade for developing countries and maintaining a path to achieve the Sustainable Development Goals. The call for greater resilience has been in every policy discussion. While we have seen areas with remarkable resilience, the problem is that it is only for some and threatens to leave many behind.
The big question is if this health and economic crisis of the century has been enough to provoke real change. The jury is still out – many initiatives and policy recommendations have been aired, but more political will is needed to take them to harbour.
From the very first moments of the pandemic, UNCTAD has mobilized its resources to support member States with data and analysis, a platform to discuss impacts and solutions and projects to help deal with the crisis. We adapted our cooperation tools as quickly as possible to meet the evolving needs. And we have been part of the response of the whole United Nations system to the COVID-19 crisis.
Today, as the major health risks of COVID-19 seem to be receding and a major cost-of-living crisis hits the global economy, it is important to look back at the COVID-19 crisis and learn from it to be better prepared for the future.
With this report, we offer lessons learned in our core areas of work, and provide answers to questions on trade, finance, digitalization, global value chains, the role of the State and international cooperation that have been prominent in policy discussions during the pandemic. It is our hope that these lessons can provide a guide to a future that is more resilient, inclusive, and sustainable. This is needed now more than ever.
Rebeca Grynspan
Secretary-General of UNCTAD