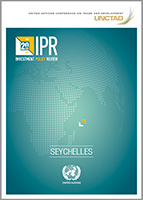 The economic and social performance of Seychelles has been exceptional in recent years. However, critical threats, including climate change and the COVID-19 pandemic, jeopardize these accomplishments through an accentuated exposure to exogenous shocks, including a heavy reliance on imports and dependence on tourism.
The Government of Seychelles has started revisiting its development model to tackle these challenges. Vision 2033 targets an ambitious paradigm shift for the country to become a knowledge-based and innovation-driven economy.
The Investment Policy Review of Seychelles, through an in-depth analysis of the investment and entrepreneurship environment, argues that to achieve these objectives, reforms of the legal and regulatory aspects of the environment for business are needed, in particular given the consequences on tourism of the COVID-19 pandemic.
It highlights that the economy requires new skills, innovation and competition to strengthen local productive capacities and enhance resilience to shocks.
The Government will also have to clarify the synergies between investment and entrepreneurship policies, to set specific targets for the type of investors and entrepreneurs needed, and to strengthen institutional coordination.