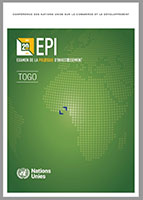 UNCTAD's Investment Policy Reviews (IPRs) help countries to improve their investment policies in order to achieve the Sustainable Development Goals (SDGs). They also help to familiarize governments and the private sector with the investment climate in these countries.
In line with the SDGs, the IPRs promote investment for development. The recommendations are aligned with national development plans and focus on key sectors.
Togo's IPR, commissioned by the government, includes an analysis of development policies, the business climate and institutions with a role in investment. Two fact-finding missions, in May and July 2022, completed the desk research. A workshop to present the draft report to stakeholders was held online on 17-18 January 2023.
The IPR benefited from the cooperation of entities involved in investment policy, including Togo's Ministry of Investment Promotion, as well as the country's Permanent Mission to the United Nations Office and other international organizations in Geneva. The views of the private sector, civil society and development partners, including the Office of the UN Resident Coordinator in Togo and UNDP, were also taken into account.