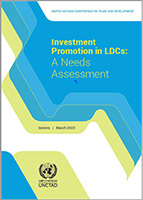 This report was prepared as part of a technical assistance programme entitled "Capacity Development Programme for Investment Promotion Agencies of Least Developed Countries".
The programme includes a training platform for LDC IPAs and surveys of these agencies and investors. This report presents the results of the surveys with an analysis that also benefitted from experiences gained in UNCTAD's technical assistance programme.
Section 1 provides a profile of investors in LDCs, focusing on the factors drawing them to these countries, the obstacles they have encountered, their interactions with government, the services they have received from IPAs, and their SDG considerations and impact.
Section 2 provides a profile of IPAs in LDCs, focusing on their current priorities, their institutional readiness to promote FDI and contribute to the SDGs, and their capacity-building initiatives and needs.
Section 3 provides recommendations based on survey findings including on investor views of opportunities and challenges in LDCs, particularly as they relate to the SDGs, as well as IPA readiness to capitalize on opportunities.
IPA Observer 13 - 2023 (Special Issue for LDC5)
(UNCTAD/DIAE/PCB/INF/2023/1 )
-
03 Mar 2023