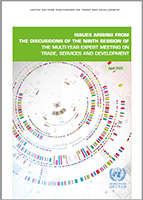 UNCTAD member States selected "the evolving landscape of digital trade" as the theme of its 9th Multi-year Expert Meeting on Trade, Services and Development, which took place 4-6 July 2022.
The meeting explored the implications of digitalization for trade in service with a view to identifying opportunities and challenges for developing countries.
This note draws on the discussions held during the 9th MYEM-Services. It also builds on several documents prepared in connection with the meeting, including a background Note (UNCTAD, 2022c), an UNCTAD study, entitled "Digitalization of services: What does it imply for trade and development?" (UNCTAD, 2022b), and the Chair's Summary (UNCTAD, 2022d).
The note demonstrates how the digitalisation of services delivery changes the ways services contribute to economic transformation; how domestic policy can impact services; and how countries can make the best use of trade agreements to enhance developing countries' effective participation in digitally delivered services.
The note is organised as follows:
Section I describes how services can contribute to economic diversification.
Section II explores the way in which digital transformation has altered the way some services are delivered.
Section III considers the domestic conditions that can contribute to building capacity in digitally deliverable services.
Section IV reflects on the extent to which trade agreements contribute to building capacity in digitally delivered services.
Section V contains policy considerations.