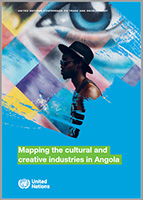 This report was prepared as part of the EU–UNCTAD Joint Programme for Angola: Train for Trade II, with funding by the European Union.
The objective of the Cultural and Creative Industries component of the Train for Trade II Programme is to "increase the economic potential of cultural and creative industries in Angola for employment, trade and development gains." The publication was produced with the financial support of the European Union.
The Cultural and Creative Industries component contributes directly to the implementation of Programme 1.7.2: "Promotion of Cultural and Creative Arts and Industries" of the National Development Plan of Angola 2018–2022 and the achievement of several United Nations Sustainable Development Goals, including Goal 8–Decent Work and Economic Growth; Goal 9–Industry, Innovation, and Infrastructure; and Goal 11–Sustainable Cities and Communities.
The vision of the project is to promote vibrant cultural and creative industries in Angola, facilitate improved economic activities and networks in the arts and cultural centres, provide greater opportunities for entrepreneurs and creators, particularly young people, and build on the rich and diverse communities that make Angola unique.
This report, aims to achieve three outcomes:
Showcase the contribution of cultural and creative industries to Angola's economy.
Analyse its main constraints and opportunities.
Identify the most appropriate public policies for its development and the capacity-building plans to be implemented.
The report also presents the potential of the CCIs globally, their importance for Angola's economic diversification within a global marketplace, together with a diagnosis of the existing supporting infrastructure and relevant policies in Angola, an analysis of the CCI value chains, and a SWOT (Strengths, Weaknesses, Opportunities, and Threats) analysis for the nation's CCIs.
Based on the analytic diagnostic, a general action plan and two technical notes were prepared, which cover:
Cultural and creative tourism.
The international dimension of the CCIs in Angola from an image, export, and investment perspective.
These documents bring forward a set of recommendations aimed at strengthening the economic potential of the CCIs in Angola through job creation and the development of international trade and serve as a basis for the development of training modules by UNCTAD.