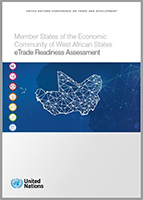 The eTrade for all initiative, launched at the fourteenth session of the United Nations Conference on Trade and Development (UNCTAD XIV) in July 2016, is a concrete example of how to mobilize the digital economy to support the 2030 Agenda for Sustainable Development, including Sustainable Development Goals 5, 8, 9 and 17.
This initiative aims to raise awareness, enhance synergies and increase the scale of the international development communityfs efforts to strengthen the capacity of developing countries to engage in and benefit from e-commerce, addressing seven relevant policy areas:
E-commerce readiness assessment and strategy formulation
ICT infrastructure and services
Trade logistics and trade facilitation
Payment solutions
Legal and regulatory frameworks
E-commerce skills development
Access to financing
The present assessment is part of the development of the Economic Community of West African States (ECOWAS) e-commerce strategy, for which UNCTAD was referred by the ECOWAS Commission in 2020.
It documents the strengths, weaknesses and challenges that ECOWAS member States face in creating an enabling environment for the emergence of e-commerce and the digital economy, and is the first step in the preparation of the regional strategy.
This diagnosis is predominantly based on updates of assessments already published, as well as seven rapid reviews conducted with countries that had not yet benefited from assessments.