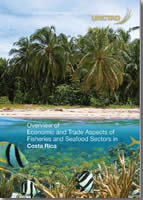 Nearly half of the world's population relies on marine and coastal biodiversity for livelihood and sustenance.
The interconnected oceans, with their manifest capacity to provide free social and economic goods and services to mankind, also buffer the impacts of global warming by absorbing and storing 30 per cent of carbon dioxide that humans produce.
The threat of overexploitation, habitat destruction, pollution and climate change are primary negative catalysts to changes in marine ecosystems – one of which is the reduction of fish stocks and other marine resources many developing countries, Small Island Developing States (SIDs) and coastal Least Developed Countries (LDCs) heavily depend on.
Costa Rica, a small Central American country that straddles both the Pacific Ocean and the Caribbean Sea benefits from high fishery productivity level particularly on its Pacific coast consisting of numerous bays, three large gulfs, a large continental shelf and an exclusive economic zone (EEZ) (FAO, 2004b) ten times the size of its land area.
However, due to years of illegal, unreported and unregulated (IUU) fishing, lack of consistency in good fisheries management, governance and enforcement of regulations, Costa Rica is now facing an onerous task of balancing its sustainability and conservation needs against the crucial requirements of promoting the advancement of one of its key economic sectors.
To this end, the UNCTAD-DOALOS project "Evidencebased and policy coherent Oceans Economy and Trade Strategies" supports developing countries such as Costa Rica, in realizing trade and economic benefits from the sustainable use of marine resources within the framework of the 1982 United Nations Convention on the Law of the Sea (UNCLOS). It aims to improve and fortify Costa Rica's capacity to benefit economically from the sustainable use of the available marine resources in its vast EEZ.
From this capacity, it is expected that Costa Rica is able to identify and harness trade opportunities arising from the selected ocean-based sector and minimize substantial reliance on importation and vulnerability to significant trade barriers including high tariffs and tariff peaks, complex non-tariff measures, and private standards relevant to its export products.
This document presents detailed information on four ocean sectors identified as national priorities in Costa Rica i.e.: (1) Sustainable wild tuna harvesting/fishing, (2) Sustainable marine fisheries (3) Sustainable crustacean aquaculture and (4) Seafood manufacturing, with a view to facilitate the identification and informed selection of the key sectors to be considered for the next phase of the project.