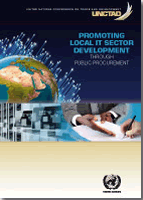 The contribution that a dynamic local information technology (IT) industry makes to national economic development - as a productive sector in itself and, more importantly, as an enabler of productive use of information and communication technologies (ICTs) throughout the economy and society - has encouraged policy makers all over the world to put in place public policies and programmes that facilitate its development.
A wide range of instruments are available to policy makers in this context. Designing and implementing public procurement practices that help to increase the participation of local IT firms when the public sector acquires IT goods and services represents one such instrument. However, successful use of public procurement policies requires a clear vision of the overall policy objective and a good understanding of the local IT sector's strengths and weaknesses.
Until now, relatively little attention has been paid to the link between public procurement and local IT sector development in developing and emerging economies. This joint UNCTAD-BMZ study seeks to address this gap and to provide decision makers with an improved basis for understanding when and how public procurement can be leveraged for the development of a vibrant IT sector. The report builds on the analytical and practical experience of UNCTAD and German development cooperation in designing and implementing measures to promote ICT sector development and build local ICT capacities in developing and emerging economies.
The report identifies seven main strategies countries may consider in this context. Based on a review of the experience of Kenya, Senegal and Sri Lanka in this area, it distinguishes between elementary measures - such as establishing open and competitive procurement processes or regular public-industry dialogues that all countries should adopt - and more advanced measures that may be appropriate once a country reaches a certain threshold level of maturity in its public procurement practices and IT sector capabilities. Policy makers need to identify a balanced mix of strategies suitable to their specific context, encompassing complementary interventions at the macro, meso and micro levels.
The successful application of public procurement for the promotion of local IT sector development is complex but can be a powerful policy tool. Our expectation is that the findings and policy recommendations included in this report will help public procurement officials, promoters of the ICT sector, e-government programme managers, local IT/software associations and the donor community to identify more effective strategies in this field.
Ms. Anne Miroux
Director
Division of Technology and Logistics
UNCTAD
Dr. Christiane Bögemann-Hagedorn
Deputy Director General
Civil Society, Economic Policy and Private Sector
BMZ