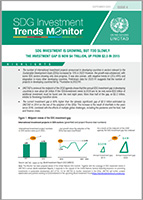 SDG Investment Trends Monitor (Issue 4)
The number of international investment projects announced in developing countries in sectors relevant to the Sustainable Development Goals (SDGs) increased by 15% in 2022.

However, the growth was unbalanced, with some SDG sectors showing only slow progress. It was also uneven, with negative trends in LDCs (-9%) and stagnation in many other developing countries.

Preliminary data for 2023 H1 suggests that the number of projects in developing countries fell by 7% relative to 2022 H1.


UNCTAD's review at the midpoint of the 2030 agenda shows that the annual SDG investment gap in developing countries is now about $4 trillion.

If the SDG investment needs to 2030 are to be met, some $30 trillion of additional investment must be found over the next eight years. More than half of the gap, or $2.2 trillion, relates to the energy transition alone.


The current investment gap is 60% higher than the (already significant) gap of $2.5 trillion estimated by UNCTAD in 2014 on the eve of the adoption of the SDGs.

The increase is the result of shortfalls in the years since 2015, combined with the effects of multiple global challenges, including the pandemic and the food, fuel and finance crises.