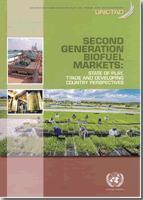 UNCTAD's first report on the state of biofuel technologies in 2007 highlighted a sector with great potential, but at the time that was a long way off from markets.
In 2015, countries made commitments toward a more environmentally balanced future through the Sustainable Development Goals (SDGs), and now seek to expand policies for low-carbon development after the agreement reached in Paris at COP21.
The year also marked a milestone in the bioeconomy, as the point in time when the production of second-generation biofuels (2G) finally took off at commercial scale. Developing countries now face a new set of market opportunities and policy dilemmas to enhance their usage of biomass, which can now be transformed into more valuable products.
This report focuses on how these market opportunities can be capitalized on and how to promote technology transfer for developing countries interested in engaging in advanced biofuel markets for the attainment of the SDGs, and as an instrument to meet their commitments under COP21.
By carrying out a non-exhaustive mapping of cellulosic ethanol projects and recent policy lessons around the globe, this report seeks to provide public and private practitioners with a macro-picture of the advanced biofuels sector, with a specific focus on cellulosic ethanol as of 2015-2016.
The report concludes with five suggestions for the responsible development of the second-generation biofuels industry:
Create regulatory frameworks for advanced bioenergy tailored to national circumstances, which do not necessarily focus on the type of supply but instead on existing local demands. The fulfilment of such regulations is likely to meet domestic development strategies in line with the SDGs.

Promote cooperation between domestic organizations and foreign companies for joint ventures by means of investment agreements in order to facilitate technology transfer. This is important to avoid the emergence of a large technological gap between first-generation, land-intensive feedstocks and second-generation, capital-intensive biofuels in developed and developing countries.

Consider the broader aspects of bioeconomy sectors, including biomaterials, in ways that avoid locking industrial development paths into specific sectors or technologies. This would provide flexibility for market players that operate biorefineries as they could target multiple markets, including materials, feed, food and energy - both domestic and internationally.

Incorporate lessons from the sustainability criteria applied for first-generation biofuels into near and mid-term sustainability provisions or labels for advanced biofuels.

Continuously promote technical dialogue among different production regions of advanced fuels in order to ensure compatible standards for feedstock and promote trade in advanced biofuels.