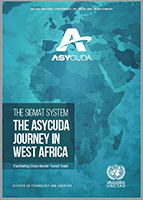 Facilitating Cross-Border Transit Trade
For 25 years, the Economic Community of West African States (ECOWAS) has worked to create an automated transit management system, finally achieving success with the launch of the SIGMAT system in March 2019. The name SIGMAT (pronounced sigma – Ʃ, to mean bringing together) is a French acronym for the "Système Interconnecté de Gestion des Marchandises en Transit", which translated into English means the "Interconnected System for the Management of Goods in Transit".
This report, "The SIGMAT System - The ASYCUDA Journey in West Africa: Facilitating Cross-Border Transit Trade", describes the various stages and initiatives of this journey which has enabled the implementation of the SIGMAT system today.
Customs offices from West African nations have long sought to collaborate to generate efficiencies and reduce fraud. For example, in the early 1990s, Côte d'Ivoire customs would send transit declarations to Burkina Faso customs by fax so that they could ensure the correct arrival of goods at their destination. This collaboration led to, in February 2019, Burkina Faso customs and Côte d'Ivoire customs exchanging transit data electronically and in real time, enabling both customs agencies to work from the same, securely transmitted, transit declaration. This development was an important simplification of the transit procedure, making it easier to track goods, increase transparency, fight fraud, and reduce transit times for goods.
However, as highlighted in the report, there is still work to be done. The SIGMAT system is yet to be extended to other ECOWAS countries and other African regions, such as the Economic and Monetary Community of Central Africa (CEMAC), the Economic Community of Central African States (ECCAS), and the Common Market for Eastern and Southern Africa (COMESA). Work also needs to be undertaken to automate manual and complex non-customs procedures which increase the time it takes for goods to be processed at the border. Improvements to the implementation and digitization of transit guarantee management to ensure payment of duties are also needed.
Nonetheless, while there is work to do, this report outlines how the development and subsequent launch of SIGMAT has delivered positive impact for the West African countries involved in it, and could be used as a blueprint for connecting all countries in the region and beyond.