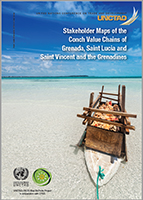 In 2020, UNCTAD, the Organisation of Caribbean States (OECS) and Convention on International Trade in Endangered Species of Wild Fauna and Flora (CITES) joined forces to design a pilot project to test the application of the revised UNCTAD BioTrade Principles and Criteria to the marine environment.
The value chain selected for this pilot project was queen conch (or Strombus gigas, an Appendix II CITESlisted species) in the first phase, and sea moss and sargassum in the second one.
This led to the design and launch of the OECS and European Union-funded project, "Seizing the trade and business potential of Blue BioTrade products for promoting sustainable livelihoods and conservation of marine biodiversity in selected Organisation of Eastern Caribbean States (OECS) Countries".
The objective of this document is to complete a stakeholder mapping following the updated BioTrade Principles and Criteria, Blue BioTrade approach and value chain methodology.
It is intended to provide an overview of the queen conch value chain in the countries of Grenada, Saint Lucia, and Saint Vincent and the Grenadines.