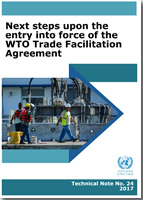 This technical note provides guidelines to countries for actions to be taken following the entry into force of the WTO Trade Facilitation Agreement.
What is the Trade Facilitation Agreement?
The Trade Facilitation Agreement (TFA) of the World Trade Organization (WTO) contains provisions for expediting the import, export and transit procedures, including the movement, release and clearance of goods with a view to reducing related costs. It also sets forth ground-breaking rules on special and differential treatment, linking implementation by developing and least developed countries (LDCs) to their acquisition of technical assistance and capacity building.
The full implementation of the TFA is expected to reduce total trade costs by more than 14% for low-income countries and more than 13% for upper middle­ income countries (OECD, 2013). It is further expected to decrease trade costs of manufactured goods by 18% and of agricultural goods by 10.4%. The TFA could also generate up to US$1 trillion of gains around the world annually (WTO, 2015). Developing countries and LDCs, particularly African countries are expected to see the greatest reductions in trade costs.
The TFA is the first multilateral trade agreement concluded under the WTO umbrella in 21 years. To bring the WTO TFA into force, 110 out of the 164 WTO Members had to ratify the Agreement. WTO Members that have ratified the Agreement, upon entry into force, would implement it on Most-Favored-Nations (MFN) basis.