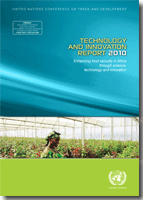 The 2010 Technology and Innovation Report - Enhancing Food Security in Africa Through Science, Technology and Innovation - focuses on the challenges of improving agricultural performance in Africa and the role of technology and innovation in raising agricultural production and incomes of all farmers, including smallholder farms. The report argues that the main challenge is to strengthen the innovation capabilities of African agricultural systems as a means of addressing poverty, improving food security and achieving broader economic growth and development.
Technological innovation is not all composed of radical discoveries, and much of what is relevant to African agriculture relates to the ways incremental improvements in processes, products, inputs, or equipments are needed to adapt existing technologies to the local environment in ways that enhance productivity and lower costs. Such knowledge may come through learning, research or experience, but requires certain technological capabilities in order to be applied in the production of products across sectors, including agriculture. From this perspective, the Report covers the following matters:
Key issues in the development of African agriculture
Building innovation capabilities in Africa agriculture
Agriculture and national food security
Challenges and opportunities to achieve food security
Transfer and diffusion of agricultural technology
Technology mixes for small scale farming
The report also puts forward twelve main recommendations , including
Smallholder farmers need to be at the centre of policy so that agricultural research, development and extension services meet the real needs of small-scale farmers.
Policy-making capacities should be strengthened to create an enabling environment for agricultural innovation, and to make possible some degree of policy experimentation.
Agricultural innovation systems need to be reinforced by focusing on the enabling environment and linking national, regional and international research to innovation.
It is important to target agricultural investment by putting resources into the physical and scientific infrastructure, linkages and stronger extension services.
Local agro-ecological conditions should be taken into account so that technologies are tailored to different agro-ecological zones and include appropriate and effective mixes both of low-, medium- and high-tech solutions as well as traditional knowledge and modern science.
Capacity building and international cooperation on technology transfer and technology sharing should be reinforced.