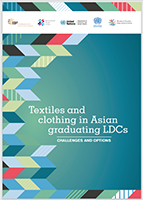 Synthesis report based on studies undertaken by several UN agencies and the WTO
Graduation from least developed countries (LDC) status will have a significant impact on the textiles and clothing (T&C) exports of Asian graduating LDCs, namely: Bangladesh, Cambodia, Lao People's Democratic Republic (PDR), Myanmar, and Nepal.
The COVID-19 global pandemic hit the T&C sector hard, and these countries must now also prepare for any potential graduation.related challenges — including the loss of some trade preferences — to ensure a smooth transition from LDC status.
How they cope will largely depend on the extent to which such adjustments can cushion the impact on their T&C sector.
This synthesis report draws on thematic and country studies on this issue prepared by the World Trade Organization (WTO), the UN Department of Economic and Social Affairs (DESA), the International Trade Centre (ITC) and UNCTAD.
The underlying studies particularly investigated such issues as individual countries' market access provisions after graduation; the nature of their participation in the T&C global value chain (GVC) and associated implications for policy options; firm-level perceptions and preparedness about graduation-related challenges and export prospects; and perspectives of global fashion brands and retailers on their future sourcing strategy in connection to LDC graduation.